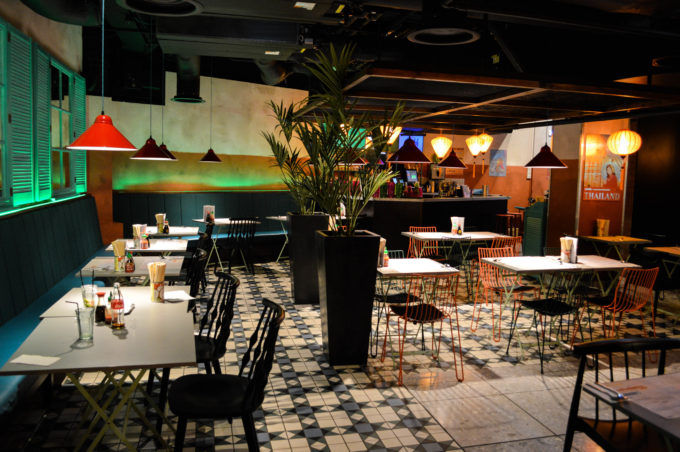 Having not visited a Tampopo for at least five years (the last time being a quick mid-shopping bite to eat in the Trafford Centre), I of course agreed to visit their newly-refurbished Corn Exchange location in the centre of Manchester and check out their menu.
Prepare yourself: there's a LOT of food in this post. Don't read it if you're sat at work starving and it's only 10.30am, is all I'm saying.
The restaurant has an on-street entrance but is actually located downstairs, which gives it a bit of a basement speakeasy-style vibe. The décor is quite minimalistic and eclectic, with Asian posters and neon signs dotted around the place, as well as hanging lantern lights.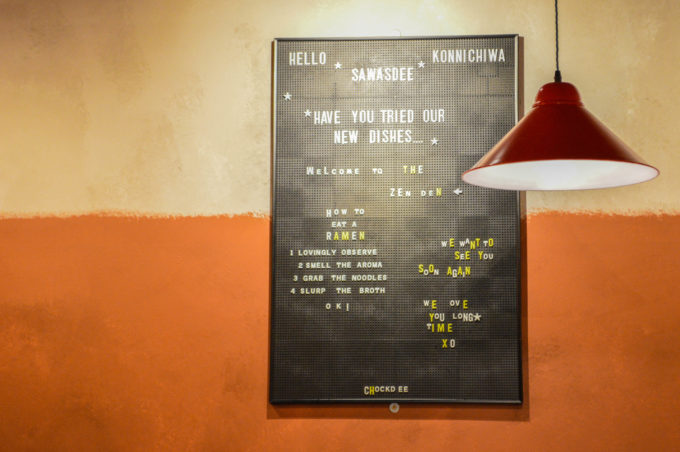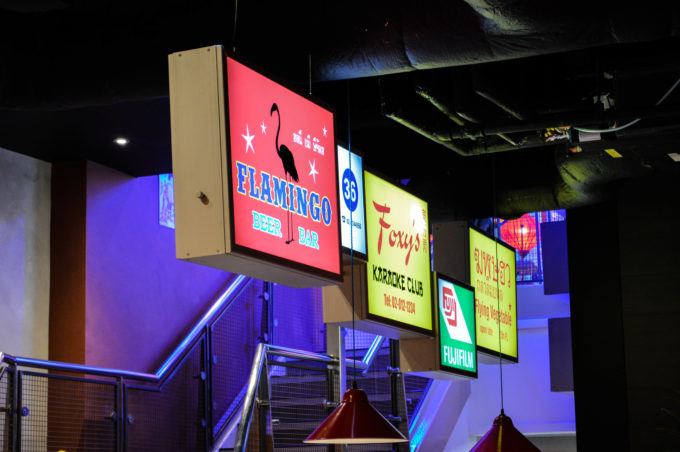 We started off with a couple of cocktails – a Lemongrass Mule for me with strong, punchy flavours, and a spicy Sangsom Chilli Mule for Scott, along with some prawn crackers. We basically told the lovely manager to bring us whatever dishes she thought were their bestsellers / most tastiest dishes, and she didn't disappoint. Although it was a good thing we brought our appetites!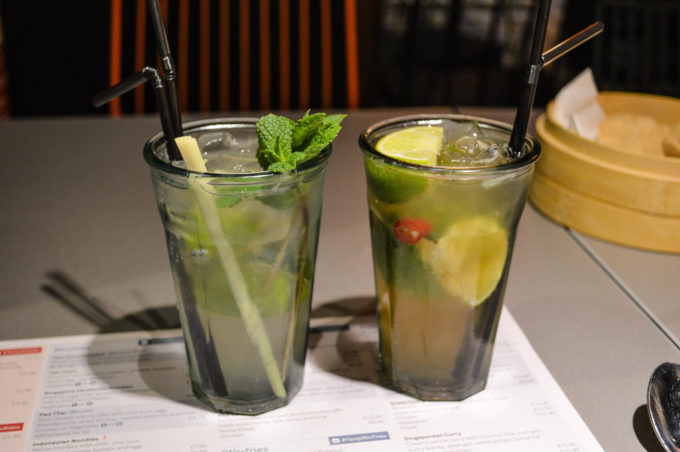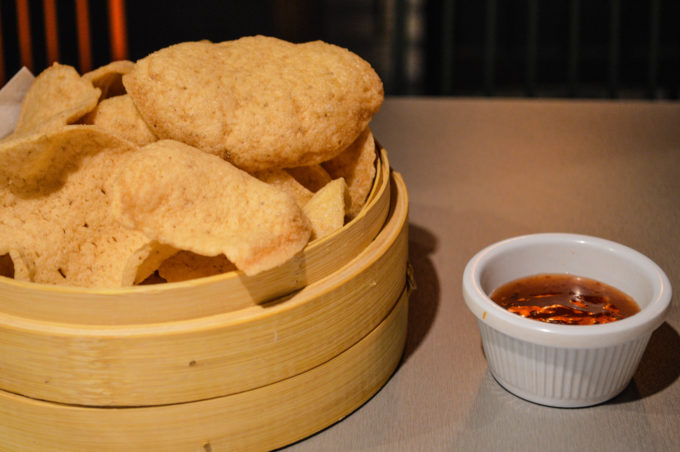 First up were the pork Gyoza – soft fried dumplings with a tangy, spicy soy and chilli dip. Juicy and with a slight chew they really hit the spot.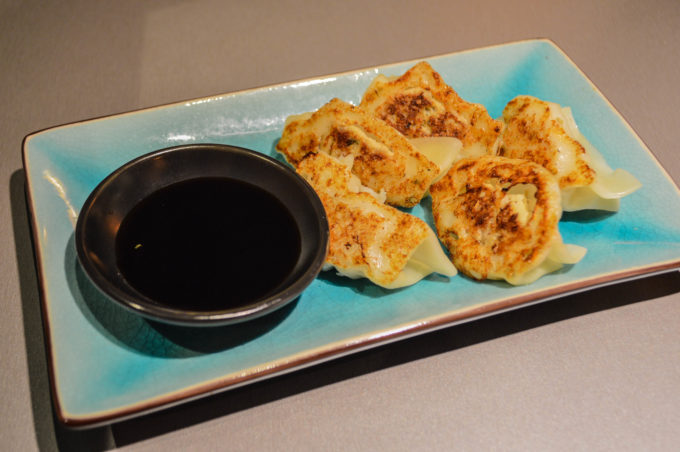 Next it was the Sticky Wings – fried chicken wings with a sticky glaze. These actually weren't my favourite; perhaps I have eaten too many great non-Asian-style wings in my time, but these just felt a bit average to me and with so many great dishes on the table, definitely weren't a standout dish.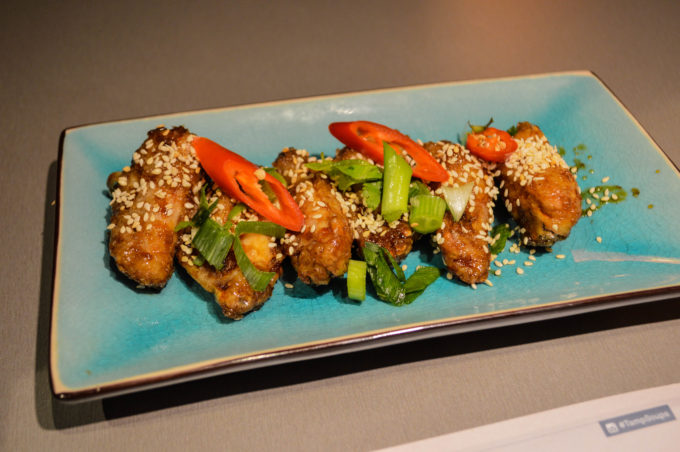 Then we tried the Rending Roti Bites, which I was really excited about as I haven't eaten rendang (or roti, for that mater) since we left Malaysia. The roti bread was wonderfully buttery and the pineapple was a refreshing contrast to the deep, smoky spice of the beef curry. Really good, and I'd re-order next time I came.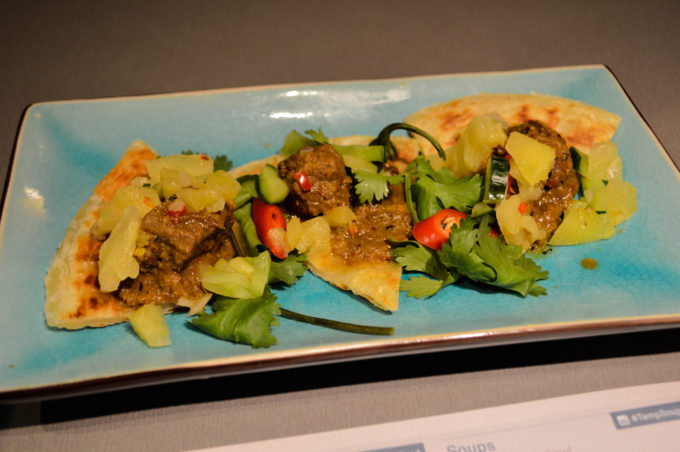 Lastly (yes, we're still on the starters!), we tried the Spring Rolls, which we ordered fried instead of fresh. Stuffed with veggies, we were told the best way to eat them was to wrap them in the accompanying lettuce leaves first, to make sure the fillings and sauce didn't fall out, which was a great tip. And despite having the appearance of satay, the accompanying sauce actually has much deeper, stronger hoisin flavours, which plays a bit of a mind trick on you as you're eating it, but was a great addition to the plain rolls.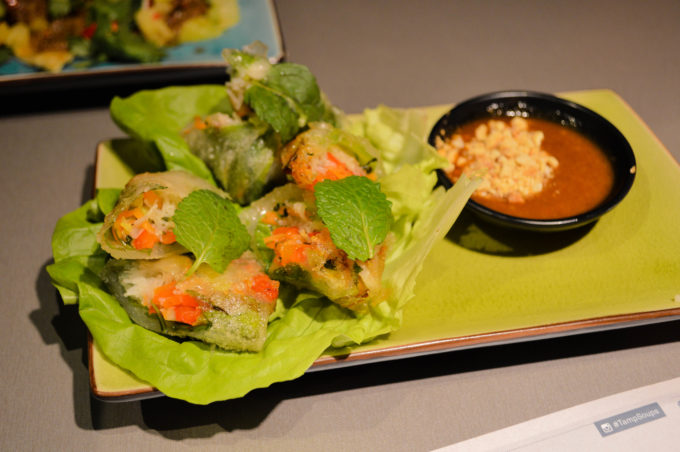 We were already getting pretty full, but next up came a bevy of main dishes. We obviously didn't finish them all, but we tried every single one and gave it our most valiant effort.
The prawn Pad Thai was surprisingly as good as any I ate in Thailand (which isn't a humble brag, or a backhanded compliment, I've just found that the quality and style of pad thai throughout the UK can vary greatly). It was sufficiently sweet and glutinous, but with a nice added crunch and zing from the peanuts and lime juice.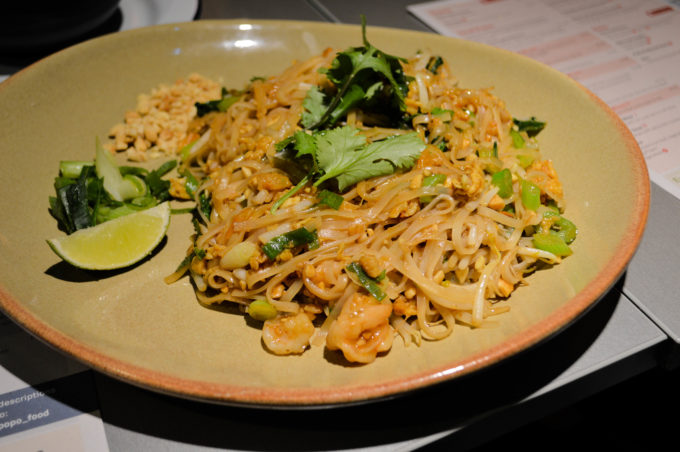 We also tried Thai Curry Noodles and Laksa. The sauce of the curry noodles was deliciously spicy and coconut-based, which made it, in my opinion, more laksa-like than the broth of the actual laksa. I could easily have slurped on that all day. The laksa was ok but a little too spicy for me and I felt it was lacking a little flavour in the broth. Plus, as I'm not a shellfish fan, the mussels in their shells did put me off a little, but Scott polished them off, so no harm, no foul.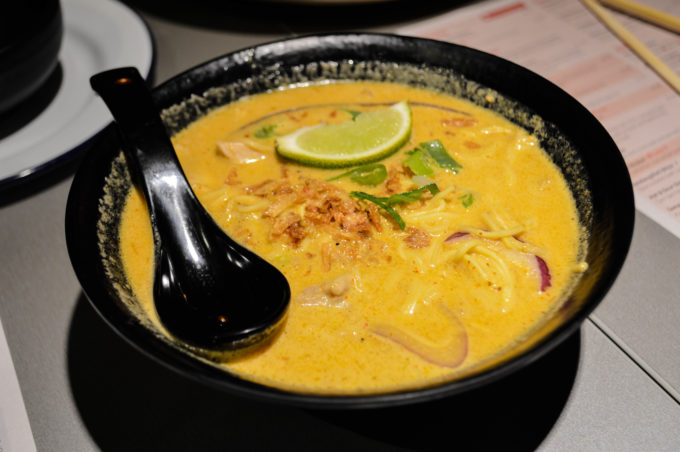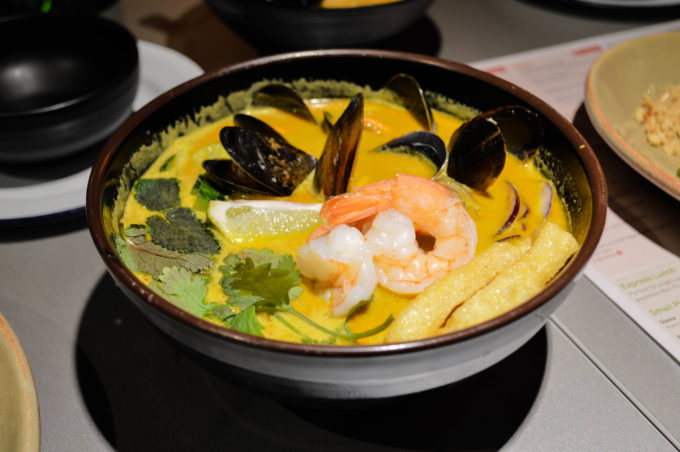 Lastly we tried the Nasi Goreng, which came tossed with chicken and green beans. This was probably the best version of nasi goreng I've ever tried, and made me think twice about passing it over on a menu in the future. Its spice was vaguely North African in flavour and I had to stop myself from shovelling too many forkfuls into my already over-stuffed mouth.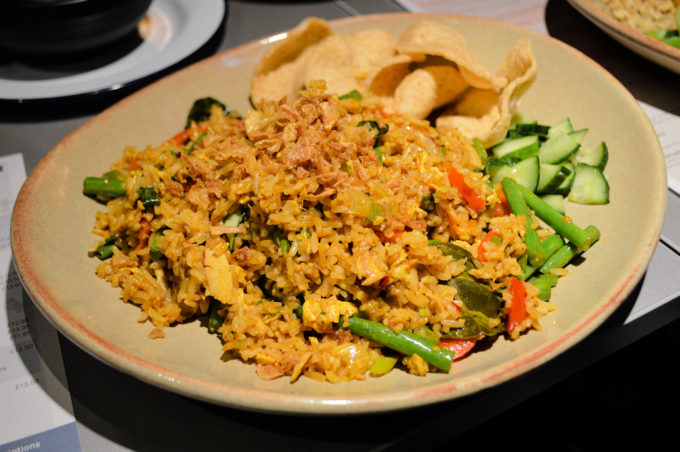 So, the verdict? Tampopo Corn Exchange is definitely a great spot to pop into while you're doing some shopping downtown, especially on those days you're craving Asian food. The menu isn't scarily exotic for first-timers, but it is also authentic enough to please those who've eaten their way around Asia. I loved the cocktail and the starters so much that I could see myself popping in just for a drink and an appetizer, but my standout choices for next time will be: gyoza, rending roti bites and Thai curry noodles.
Corn Exchange, Manchester M4 3TR
Mon – Wed 12pm – 10.30pm, Thurs – Sat 12pm – 11pm, Sun 12pm – 10pm
1