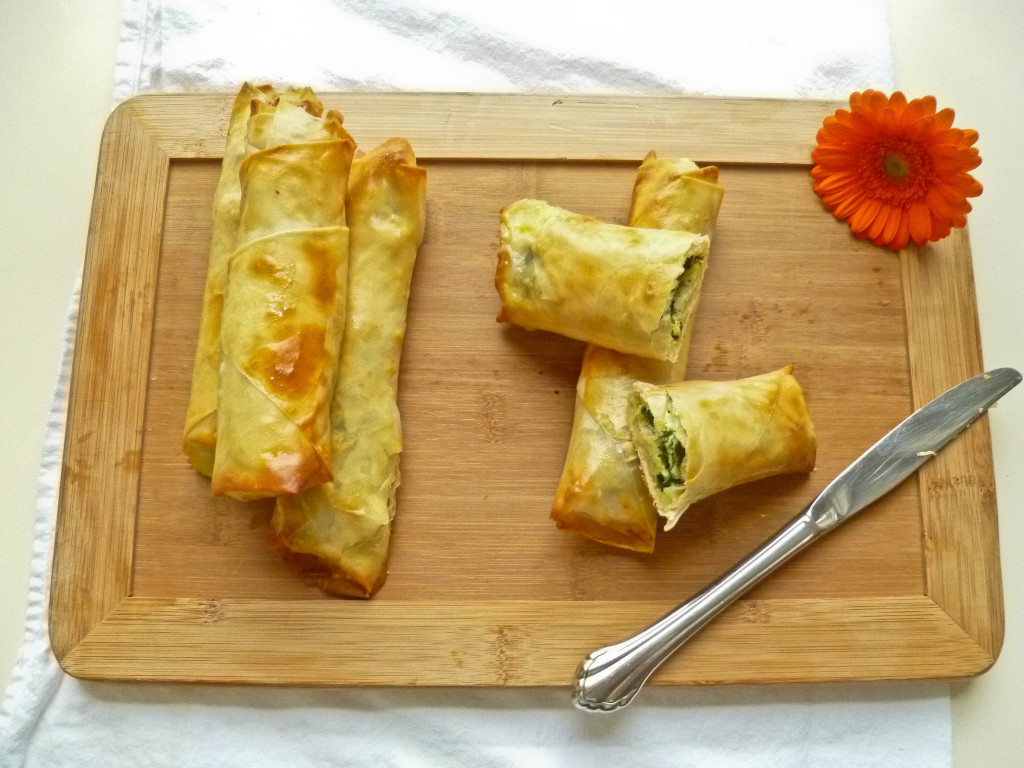 When I was in Turkey, I ate my fair share of burek. I also ate a lot of burek last year in Eastern Europe, so you could kinda say I'm a bit of a burek conossieur.
Or maybe I just like eating pastry. And meat. And cheese.
Either way, I can say that I've sampled many and have rarely been let down.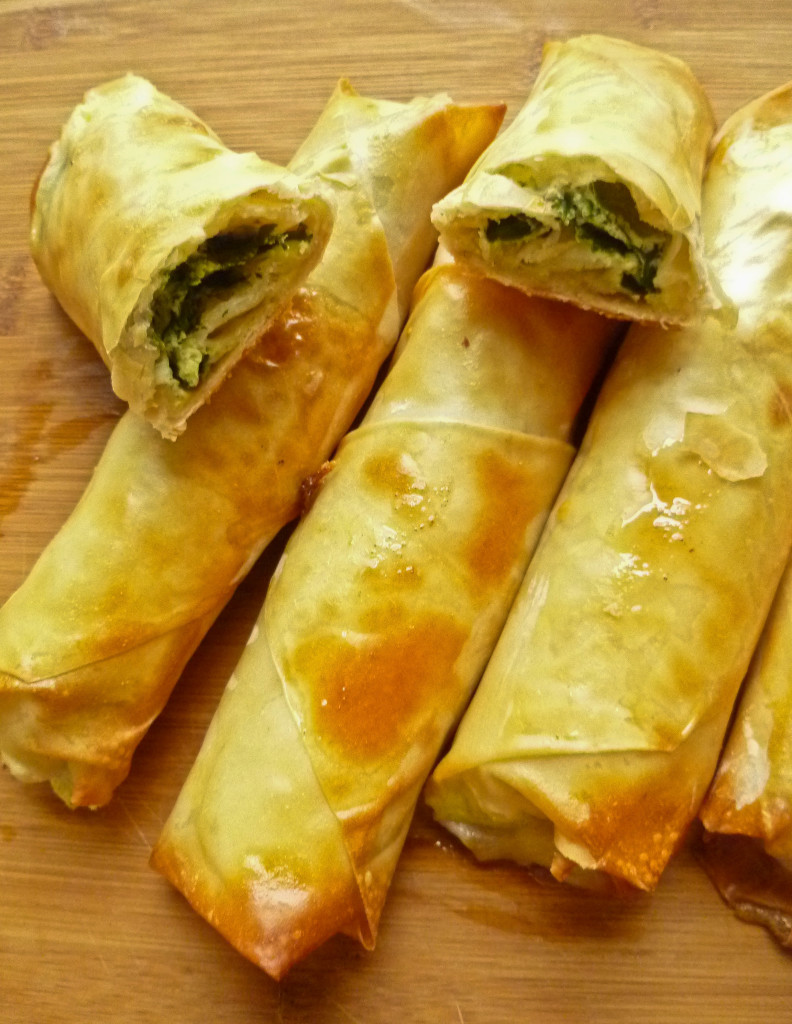 But while we were in Turkey I saw a different kind of burek advertised altogether: cigara burek (cigar burek). I was intrigued. And then one day at our guest house in Goreme, the owner's father mentioned to us that he regularly makes cigar burek for breakfast, stuffed with cheese. We asked if we could try some and he obliged. They were divine.
Now, when I say cheese, bureks are typically stuffed with a cottage-cheese like cheese, as opposed to your regular cheddar. But let me tell you – it works.
Once we had moved on to Amsterdam and I had my own kitchen at my disposal again, I knew I wanted to make some of my own, but with spinach in too. It was difficult to find the correct type of filo pastry (they use a special type in Turkey) but I used regular filo from the supermarket and it turned out just fine. Better than fine, in fact.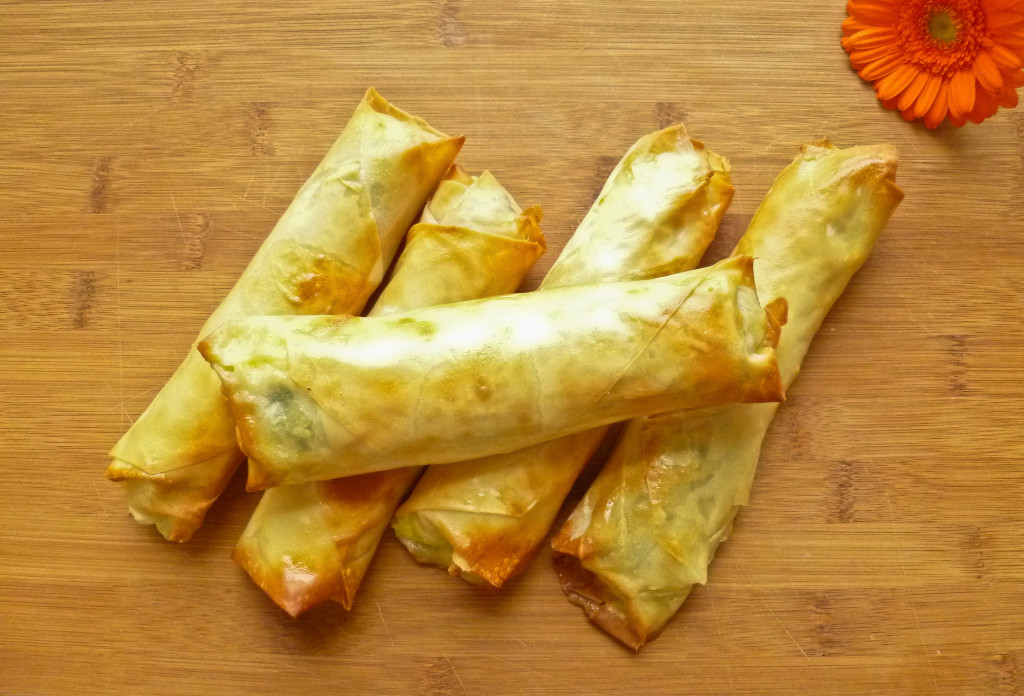 These spinach and cheese cigar burek may not be exactly the same as our host's in Turkey, but they are a damn good imitation. And they would also be great to serve at a party buffet or as an appetizer. If your guests would be freaked out by the word "burek", just tell them they're spring rolls instead 😉
P.s. if you need help rolling your bureks (what do you mean, my instructions don't make sense?!) then take a look at this page.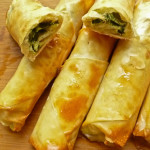 Spinach and Cheese Cigar Burek
2015-03-29 07:28:22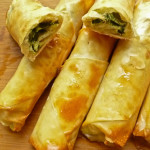 A crispy, crunchy and cigar-shaped version of burek, stuffed with egg, cheese and spinach. Great for an appetizer or part of a party buffet.
Nutrition Facts
Amount Per Serving
* Percent Daily Values are based on a 2,000 calorie diet. Your Daily Values may be higher or lower depending on your calorie needs.
Ingredients
One small pack filo pastry (around 8 sheets or 1/2 pound in weight - defrosted if frozen)
3/4 cup feta cheese, crumbled
1 cup baby spinach
2 eggs, beaten, plus one extra beaten egg for glaze
Instructions
Preheat the oven to 180C / 350F.
Stir together the cheese, spinach and two eggs in a large bowl.
Lay out the filo pastry flat on a work surface in front of you.Take a pastry brush and dip it into the egg you're using for glaze, then brush a little on two of the diagonal corners of the pastry (for example, the top right corner and the bottom left corner).
Using a dessert spoon or ice cream scoop, collect a portion of the cheese/spinach mixture and lay it out diagonally on the pastry sheet, slightly off centre (please see the link in the post above if you need to see some pictures on how to do this).
Tuck the two dry corners of the pastry in and then fold one of the egg-washed corners over the filling and covered the two folded corners (so that the pastry now looks like an open envelope). Roll the pastry from this side towards the other end so that it forms a roll shape, and secure the second egg-washed corner on to the top.
Continue this with the remaining pastry.
Place each of the bureks on a baking tray and brush with a little of the beaten egg and then bake in the oven for 20-25 minutes, or until the pastry is cooked and they are golden brown.
Confused Julia https://www.confusedjulia.com/
3