We didn't make it to LA on either of our Route 66 road trips (because we were restricted by time and our end and start destination was Phoenix), but we covered a lot of ground between Chicago and Arizona.
Here are some of the best Route 66 attractions we saw, and a few that are still on my list for next time.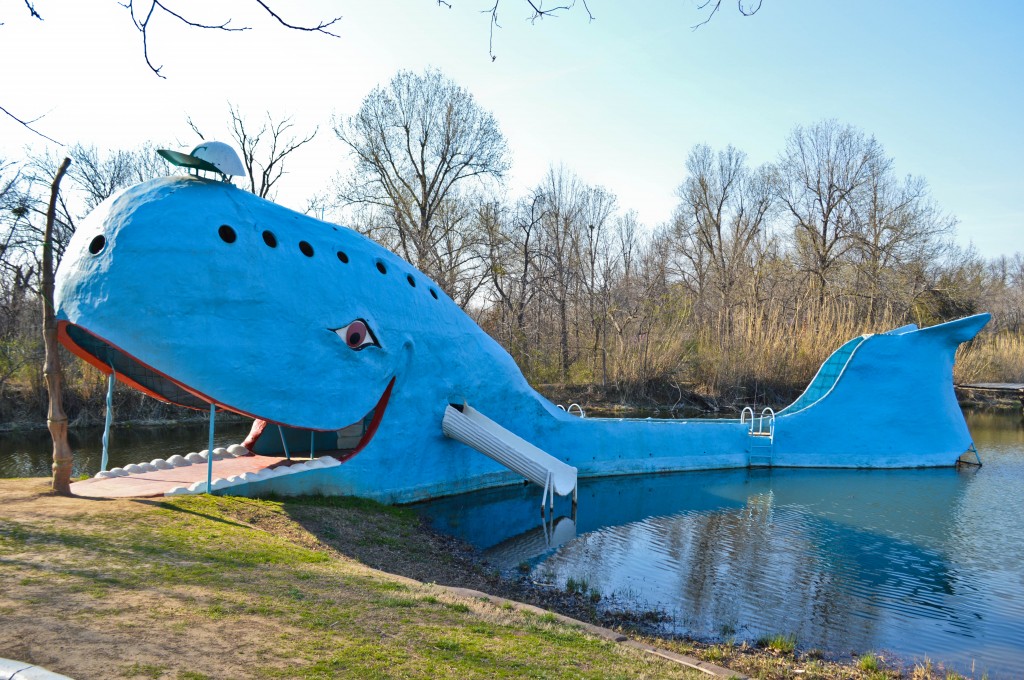 Blue Whale, Catoosa
Just outside of Catoosa, Oklahoma, lies a large blue whale in the middle of a pond. Constructed in the '70s as a gift for the owner's wife (who collected whale figurines) the whale gained popularity as a swimming waterpark by drivers along Route 66. The whale has small slides on either side, where children used to slide into the pond. These days, the friendly-looking whale is just a reminder of what used to be and I wouldn't recommend sliding into the green-looking pond anymore.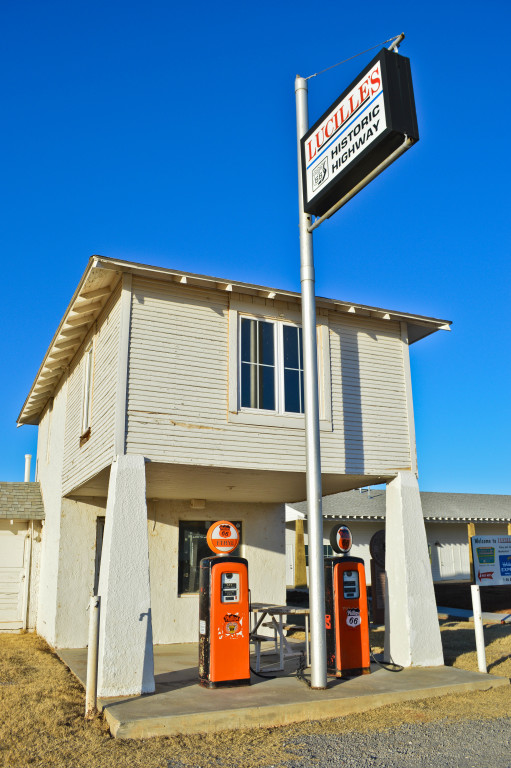 Lucille's Gas Station, Hydro
I talked about Lucille's in my first Route 66 post as it was owned by the "Mother of the Mother Road", Lucille Hamons. Situated in Hydro, Oklahoma, Lucille used to pump gas and exchange stories with truckers and drivers who stopped at her humble station. It also used to be a small motel, although these days it's just a cool place to snap a photo.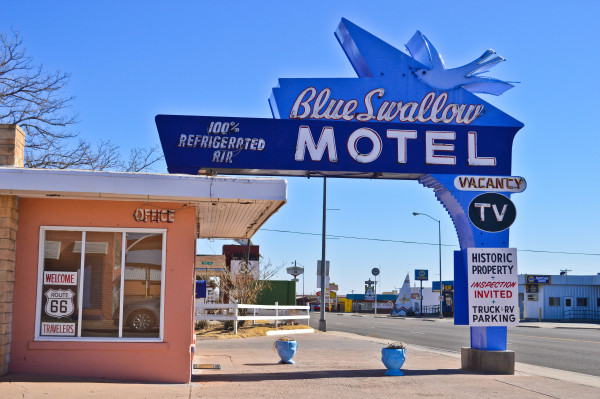 The Old Motels of Tucumcari
We drove through Tucumcari on our way out to Arizona and then spent the night there on our trip back (sadly not at one of these motels). Iconic signs for retro-style motels litter the main street of this town and give you an insight into the original glamour of the route and how many people used to travel along it. Some of these motels are still operating, while all that remains of others is the cool neon sign.
Conoco Gas Station, Shamrock
We may have stumbled across the Conoco station in Shamrock completely by accident, but it happened to be one of the most impressively restored sights we saw on this stretch of the route. The original U Drop Inn Cafe and gas station were built back in 1936 and the tower on top was inspired by the image of a nail stuck into the dirt.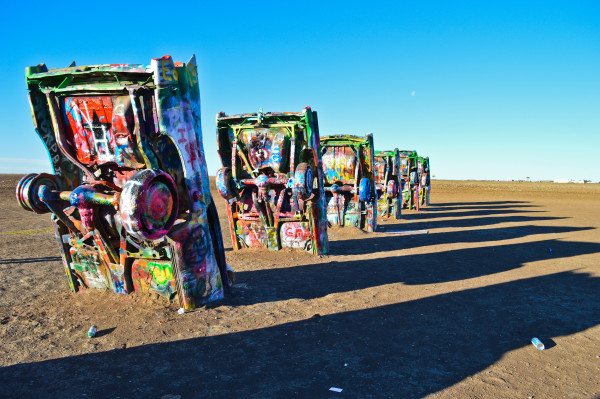 Cadillac Ranch, Amarillo
Not a fixture of the original Route 66, Cadillac Ranch was created in the 70s by an art group. It consists of a collection of used or junk Cadillac cars half-buried in the earth. Over the years, visitors have spray-painted their names and insignias on the sides of the cars, as we did one morning in January.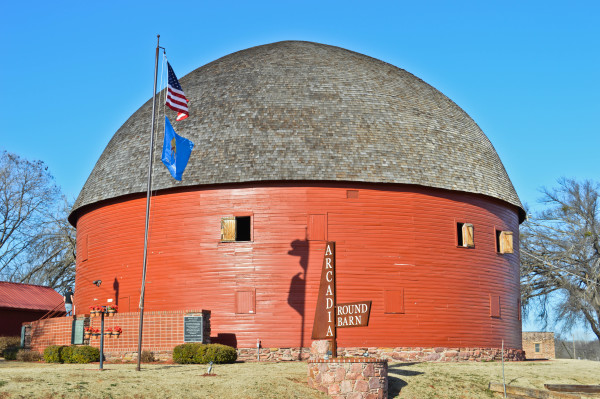 Red Round Barn, Arcadia
The Round Barn is one of the oldest attractions on this list, built in 1898. It was constructed to house horses and livestock but also became a local community meeting place hosting dances. There is a free museum inside the barn detailing its colourful past and the tally of international visitors that now come to see it each year.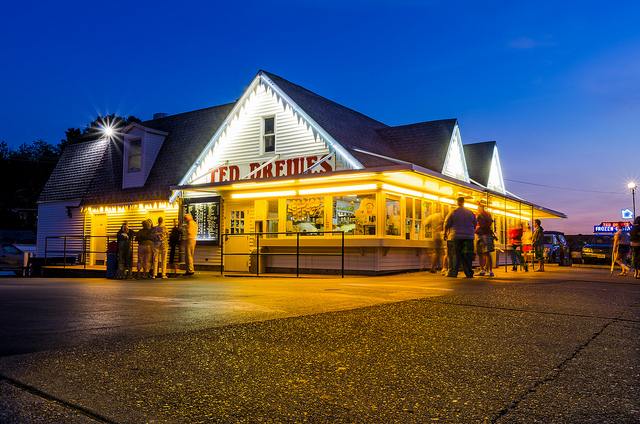 Ted Drewes Frozen Custard, St. Louis
I didn't visit Ted Drewes on either of our last road trips, but have visited the frozen custard shop on many previous trips to St. Louis. Situated on a section of the old Route 66, Ted Drewes draws huge crowds in the summer, and is famous for their thick frozen custard made with eggs and honey, along with a thick custard blended until the spoon stands up straight; the original "concrete".
Attractions I've Yet To See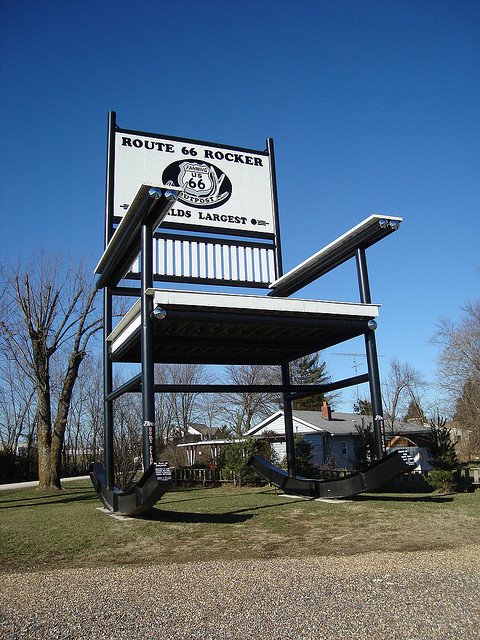 World's Largest Rocking Chair, Fanning
Ever since I saw this attraction on Billy Connelly's Route 66 program, I've wanted to visit this huge rocking chair and climb up it. Considering that it's located in Missouri, I'm surprised we've missed it thus far. It's a modern Route 66 attraction (only installed in 2008) meant to draw visitors back to the area after traffic along the original route has largely been diverted to the major highways. It's painted in the original Route 66 colours of black and white and you can climb up and sit on its seat for a photo opportunity.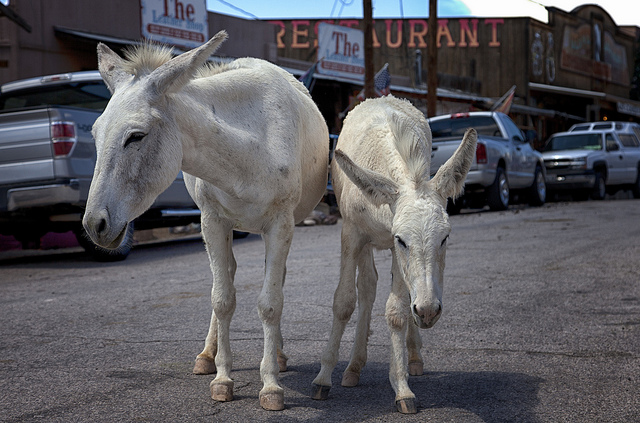 Wild Burros, Oatman
Oatman Arizona is a former gold mining town which has undergone a facelift in recent years due to Route 66 tourism and visitors to the nearby gambling town of Laughlin, Nevada. Here you can see wild burros (small donkeys) roaming the streets and can even feed them carrots and store-bought "burro chow". As you may have realised from my reindeer experience, anything that involves hand-feeding animals is ok in my book.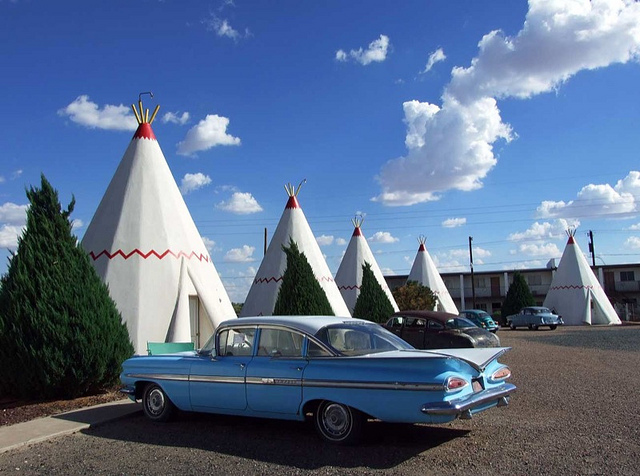 Wigwam Motels, Holbrook
It may be tacky to say you spent the night in a wigwam, but hey, tacky is exactly why I love places like Vegas. These collections of steel wigwams house small motel rooms containing a bedroom and bathroom and were built in Holbrook, Arizona in 1950. The motel has been placed on the National Register of Historic Places and was successfully refurbished and re-opened by the original owner's children in the late 80s, drawing many international tourists looking to re-live the glory days of the Mother Road ever since.
Photo credit: ted drewes, rocking chair, burros, wigwam
10