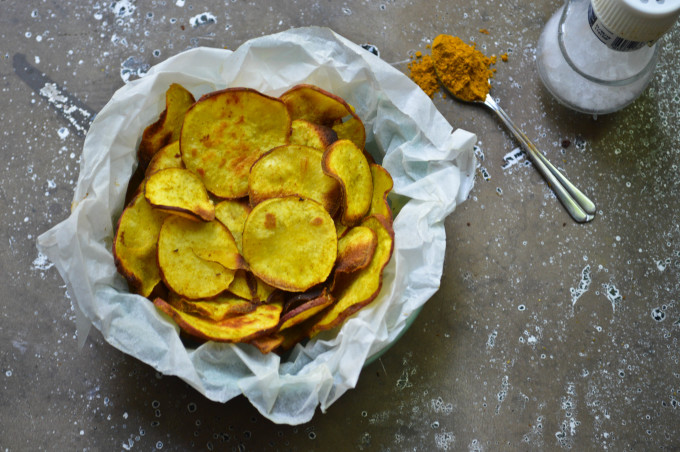 I think it's fair to say that we consume a lot of sweet potatoes in our house. Definitely more than the average person. Baked, fried, pureed into soup – you name it, we probably devour them at least twice a week (maybe more, if we're feeling particularly uninspired).
We also have a new-found love of vegetable crisps (chips, crisps – it's all the same people, let's just get along?) but, until recently, I haven't delved into the foray of making them myself.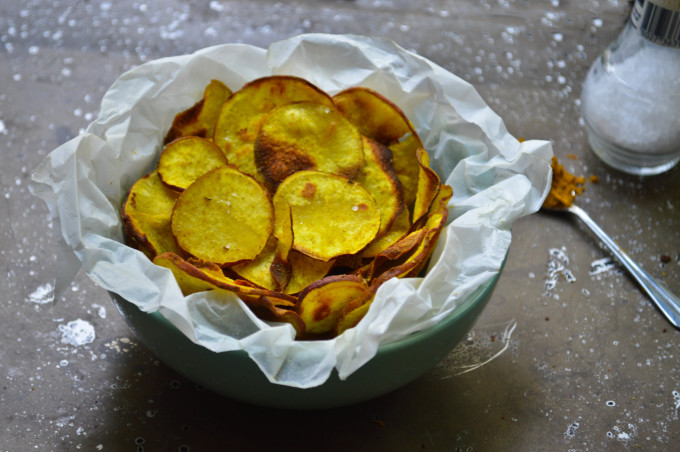 Turns out, it's pretty easy – not to mention cheaper and equally, if not more, delicious. I didn't want to make plain salted sweet potato chips, though, because I assumed that they would be quite bland and boring. So I decided to coat them in a little curry powder – because sweet potatoes and spices work amazingly well together.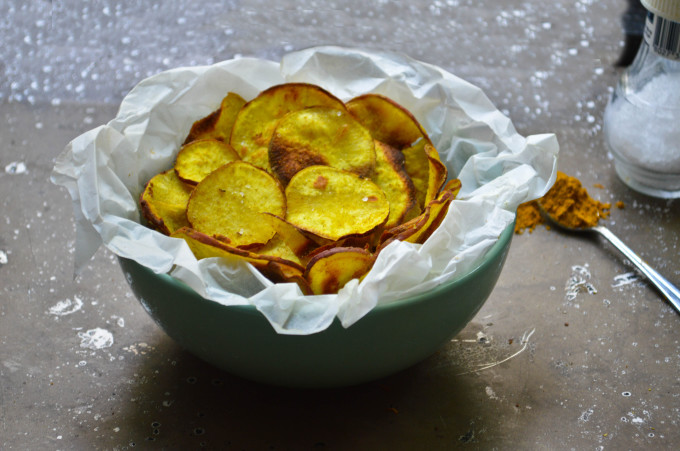 The knack to making your own chips (crisps) is to get the potato slices as thin as you can. This takes a little patience, a sharp knife and a steady hand, but if you want to make them regularly I'd suggest investing in a mandolin to make the whole process easier (just be careful not to slice your fingertips off!)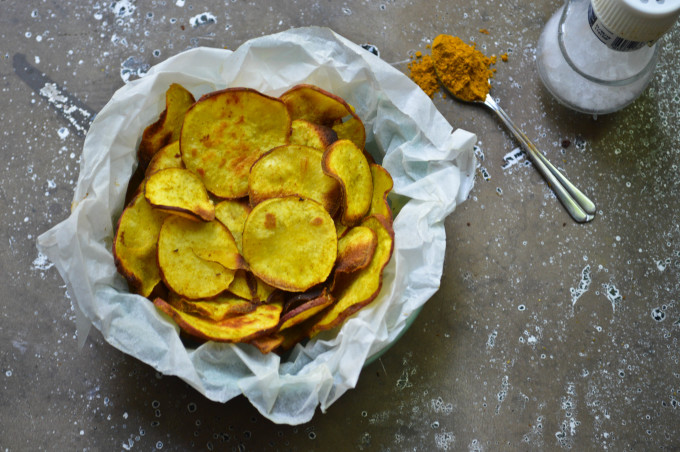 Curried Sweet Potato Chips
2015-09-14 08:19:13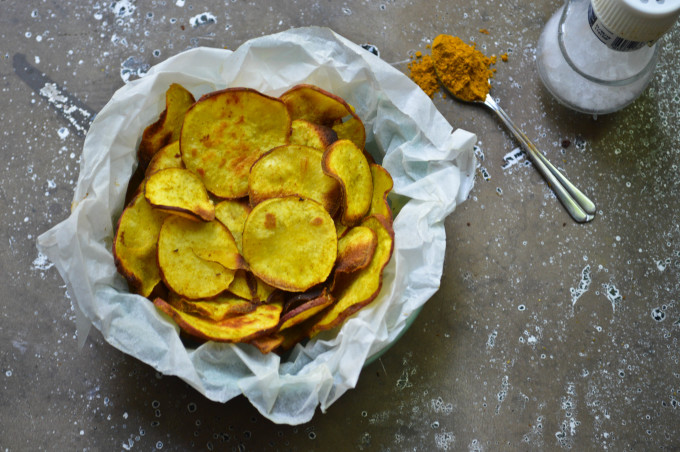 Serves 4
Crispy sweet potato chips with a hint of curry spice
Nutrition Facts
Amount Per Serving
* Percent Daily Values are based on a 2,000 calorie diet. Your Daily Values may be higher or lower depending on your calorie needs.
Ingredients
2 lb (900g) sweet potatoes
2 tbsp olive oil
1 tsp curry powder
1 tsp sea salt
Instructions
Preheat the oven to 450F / 230C.
Wash the sweet potatoes under cold water but don't bother to peel.
Using a sharp knife (or a mandolin) thinly slice the sweet potatoes to approx. 1/8 inch thick rounds and then place into a large bowl.
In a separate small bowl, combine the oil, curry powder and salt. Pour the curry oil over the sweet potato chips and mix well with your hands to ensure each of them are evenly coated.
Spread the sweet potato chips out onto 2 large baking sheets (make sure that they don't overlap otherwise they won't crisp up).
Bake the chips, turning them over once during cooking, for around 10-12 minutes, or until crisp and slightly browned. Keep an eye on them to ensure that they don't burn.
Remove from the oven, leave to cool for a couple of minutes and then serve still slightly warm with your favourite dip or sandwich - or just on their own!
Confused Julia https://www.confusedjulia.com/
0