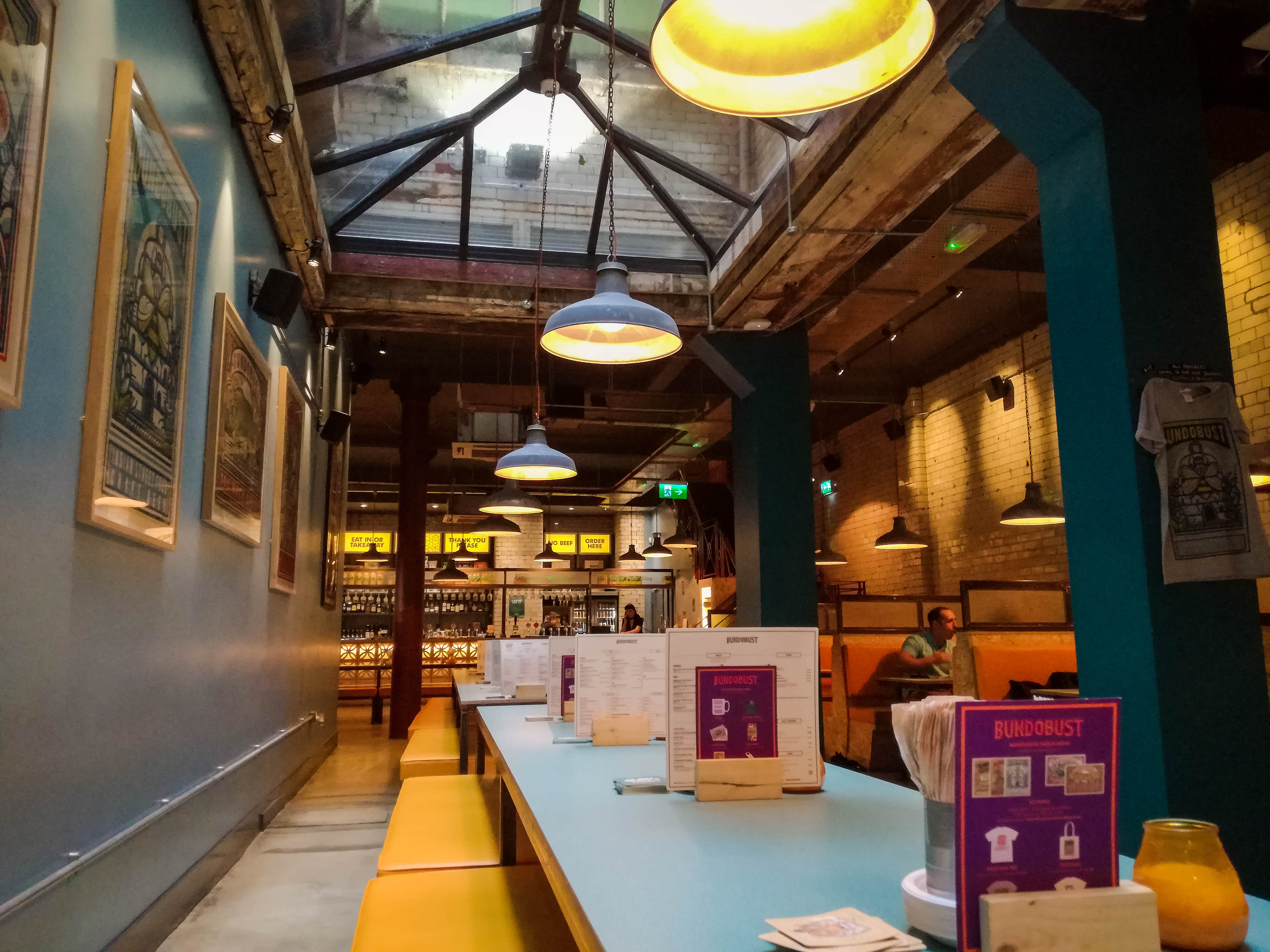 The entrance to Bundobust Manchester is unfortunately less than impressive. As building works in Piccadilly Gardens continue, a permanent hoarding is covering the space its front door jointly shares with a Subway franchise. But don't let the small, unassuming purple sign put you off descending the stairs into what I can only describe as a cavern of Indian street food delights.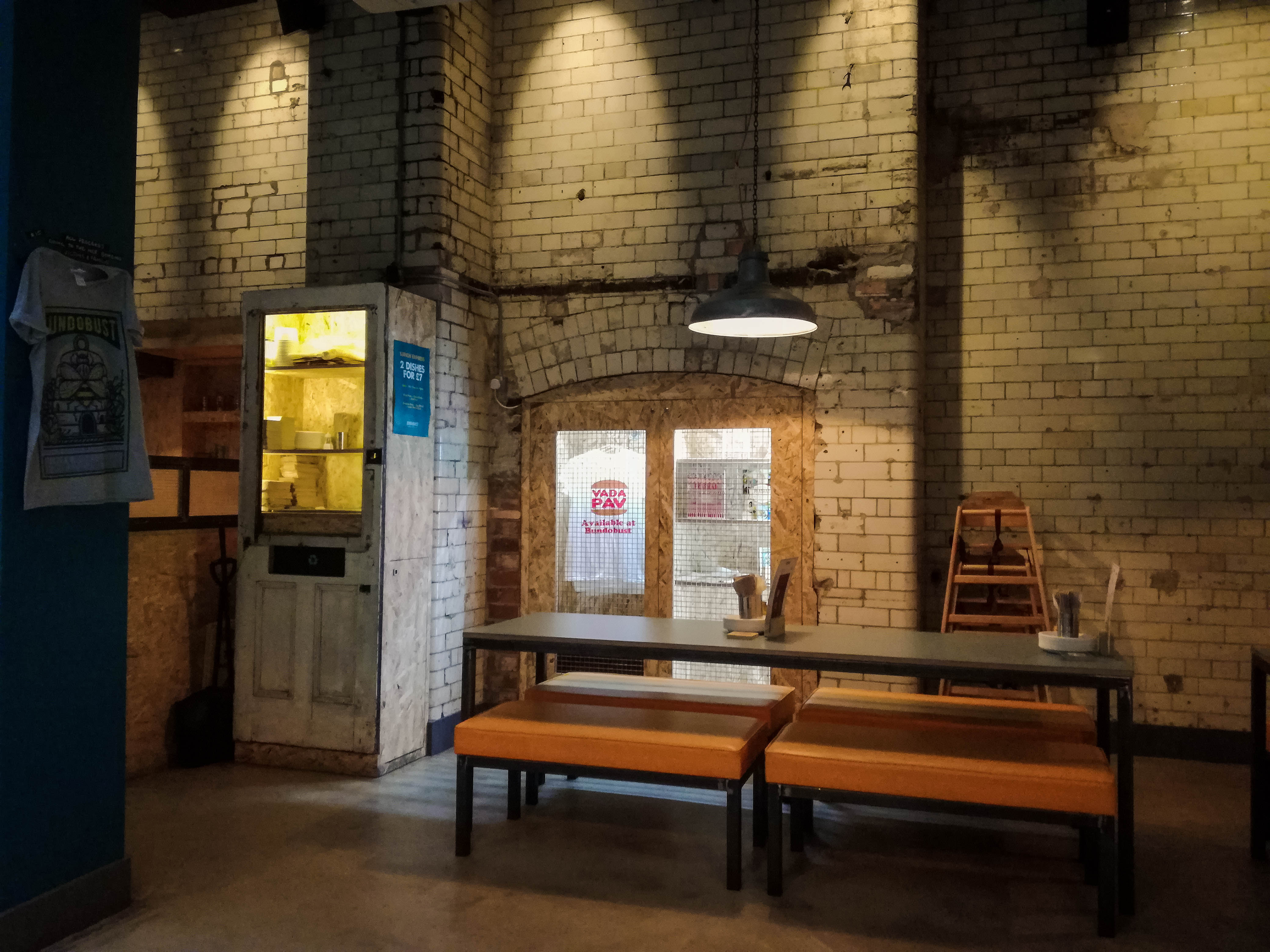 The interior is larger than it would seem, lined with a handful of leather booths but mostly long, yellow bench tables. Had it been a Friday night I have no doubt we'd have been elbowing dining neighbours out of the way for the napkins, but as it was a weekday lunch, we luxuriated in our extra space on a long bench and perused the menu.

We opted for a range of six different small plates; four to share and two orders of the now famous vada pav burgers because we're greedy like that (and also hate trying to awkwardly share anything sandwiched between bread of any kind).

We ordered a couple of drinks – Bombay Dazzler beer for the husband and a chai for me – and took in the decidedly Batman-esque surroundings (I'm referring here to the dilapidated building block rising up behind the glass ceiling in the restaurant; a place with broken windows and metal staircases that looks like it would once have been scaled by Bruce Wayne himself). The beer was fruity and light, like any good wit beer, but left a distinctly unique spicy aftertaste. The chai (hot milk mixed with ginger, sugar and massala) was the perfect antidote to the pouring rain outside.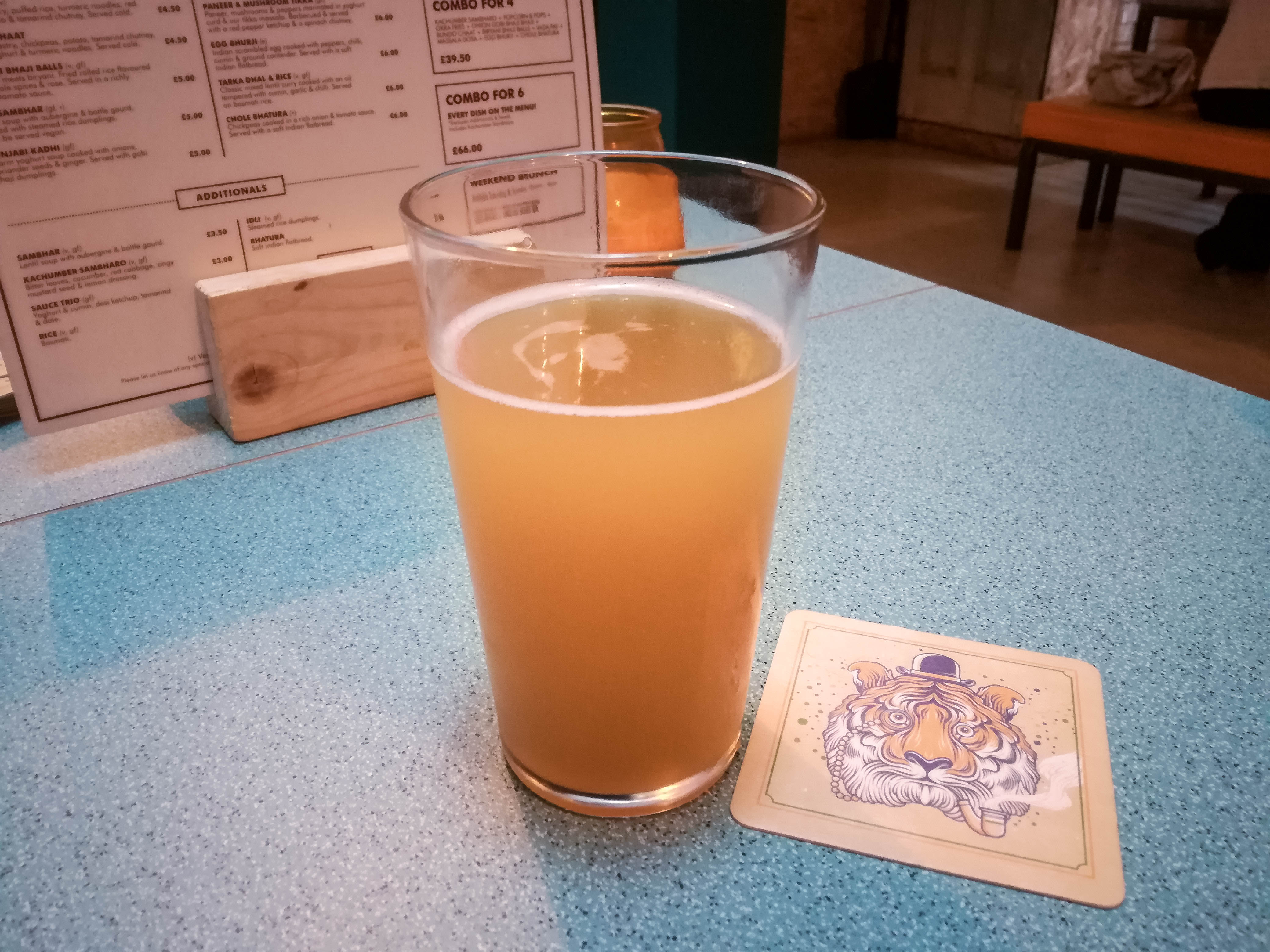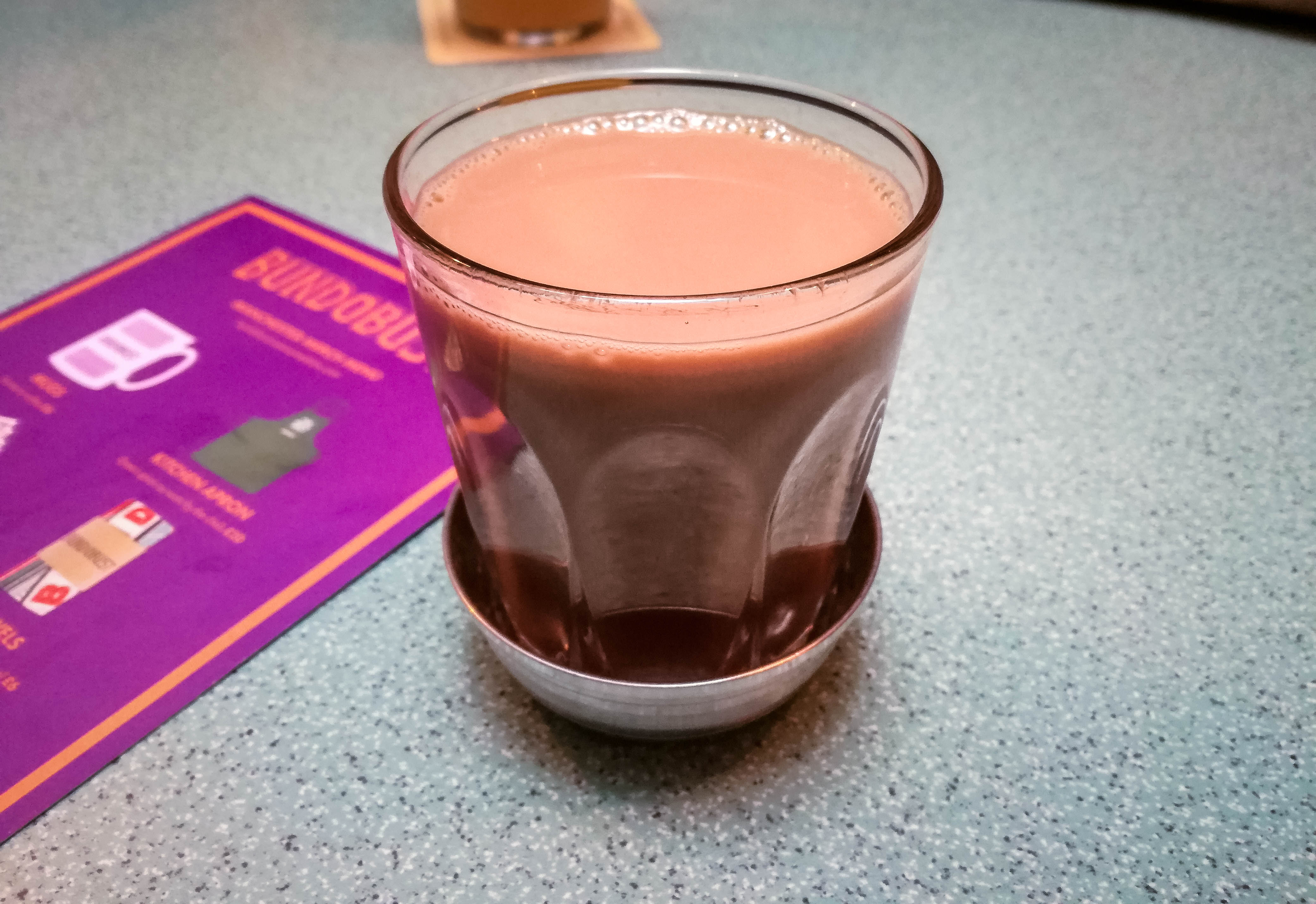 Bundobust operates an 'order at the bar' system, so all of the food you have ordered arrives at once. This is great for a hungry hippo like me but may irritate those who assume it works like a tapas restaurant (to those people I say just go up and order in small batches and stop whinging).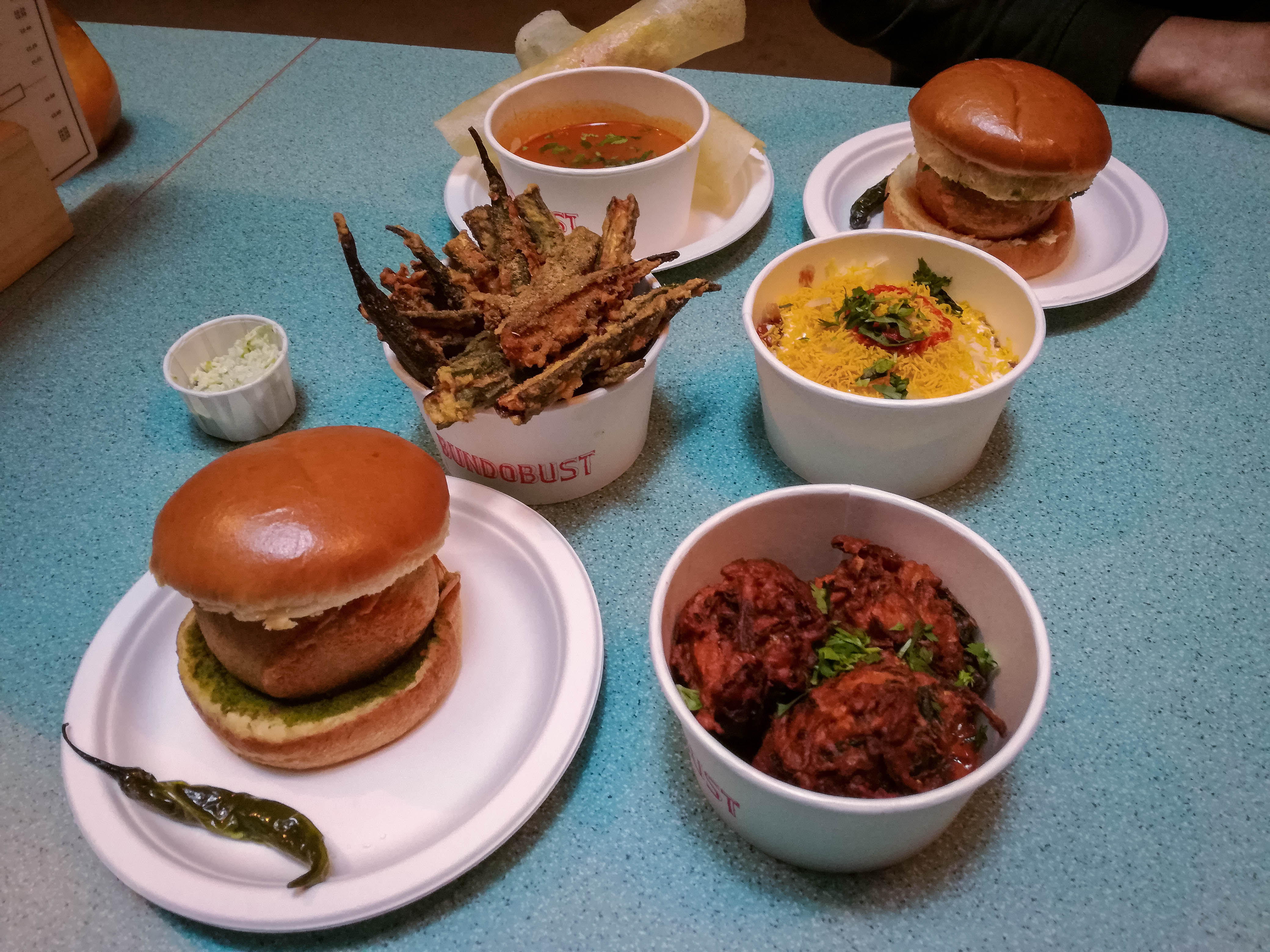 We couldn't help but grab handfuls of the okra fries right off the bat. They were crispy, salty and yet sweet, dusted with mango powder as well as black salt.

Then, of course, our next natural progression was to the onion gobi bhaji bhajis; so much more complex than your regular curry house ones and stuffed with extra cauliflower and spinach. The tamarind and red pepper chutney that they sat on was lip-smackingly good, although they actually didn't need any accompaniment being as plump and tasty as they were.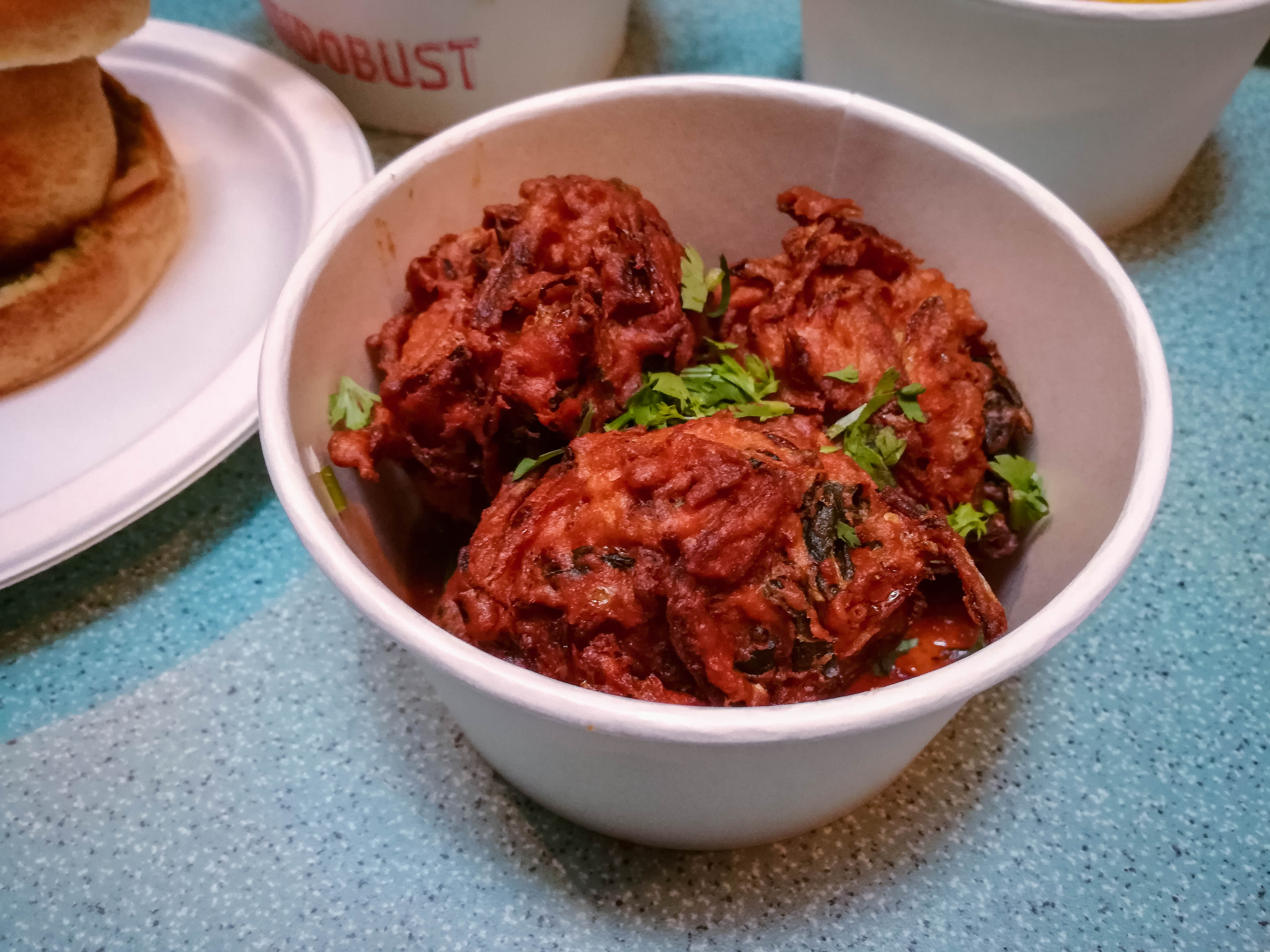 The bundo chaat was a complete revelation. The description of it had sounded almost confusing (samosa pastry with chickpeas, potato, tamarind chutney, yogurt and turmeric noodles), but the resulting savoury/sweet flavours and textures were nothing short of amazing. That had actually been our wildcard pick, as we really hadn't been in the mood for a cold dish on such a dreary day, but it managed to refresh and clean the palate in between other spicy mouthfuls.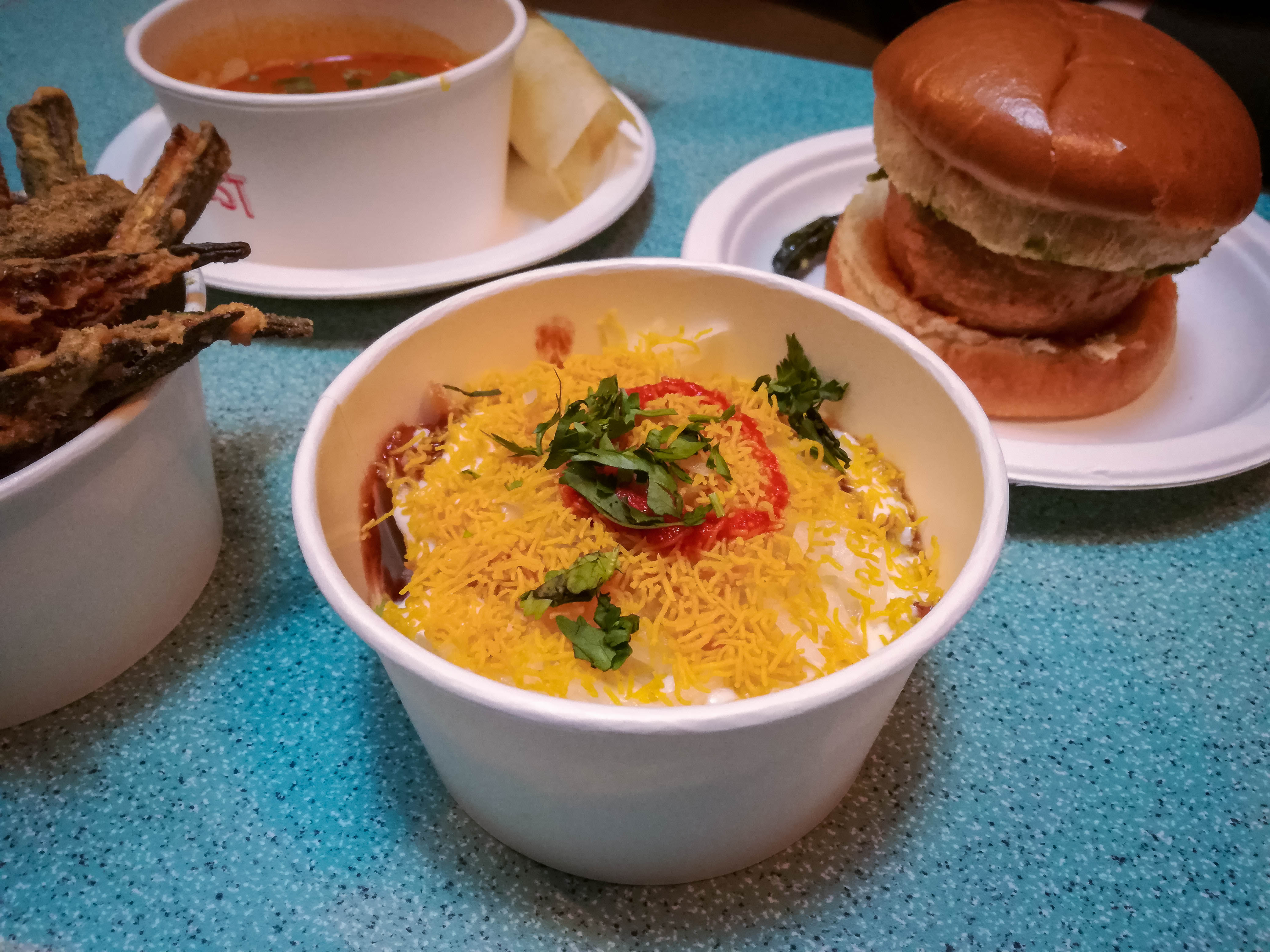 Next on to the vada pav, a 'burger' of fried mashed potato with red and green chutneys. Essentially an Indian version of a chip buttie, this was comfort food at its finest. Never would I have thought that potatoes on bread would be so delicious, but the two chutneys served with it took the flavour to a whole other level.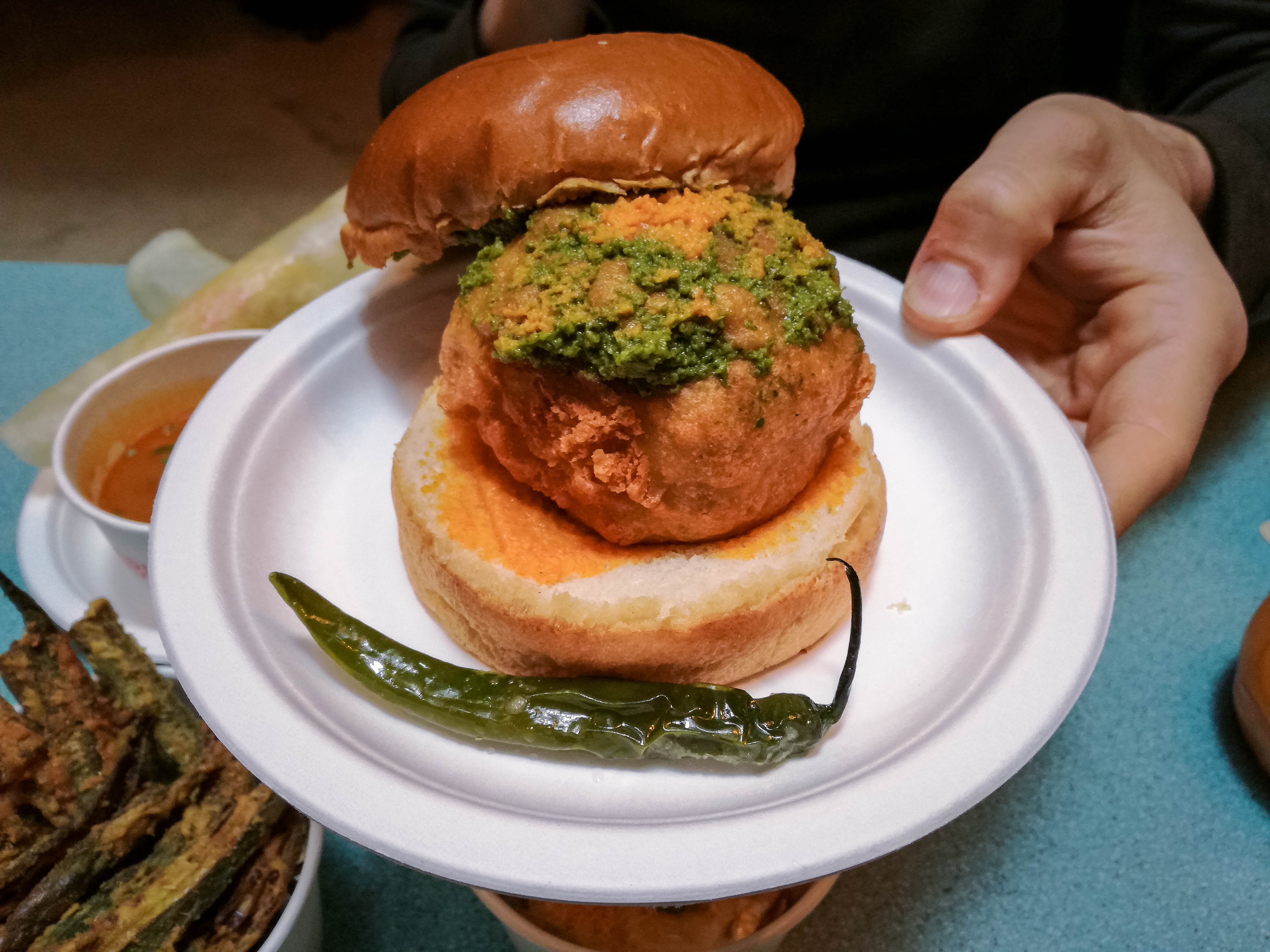 Our last favourite dish, mainly by composition than design, was the masala dosa. The dosa itself was feather light and coconut-ty, filled with potato and onions. The coconut chutney that accompanied it was delicious, and used on other dishes at the table as well as that one, but neither of us are huge fans of the watery Indian lentil soup that comes as part of the dish (we had it several times in Malaysia) and unfortunately we had already been so blown away by the other dishes on the table that this one just couldn't compare.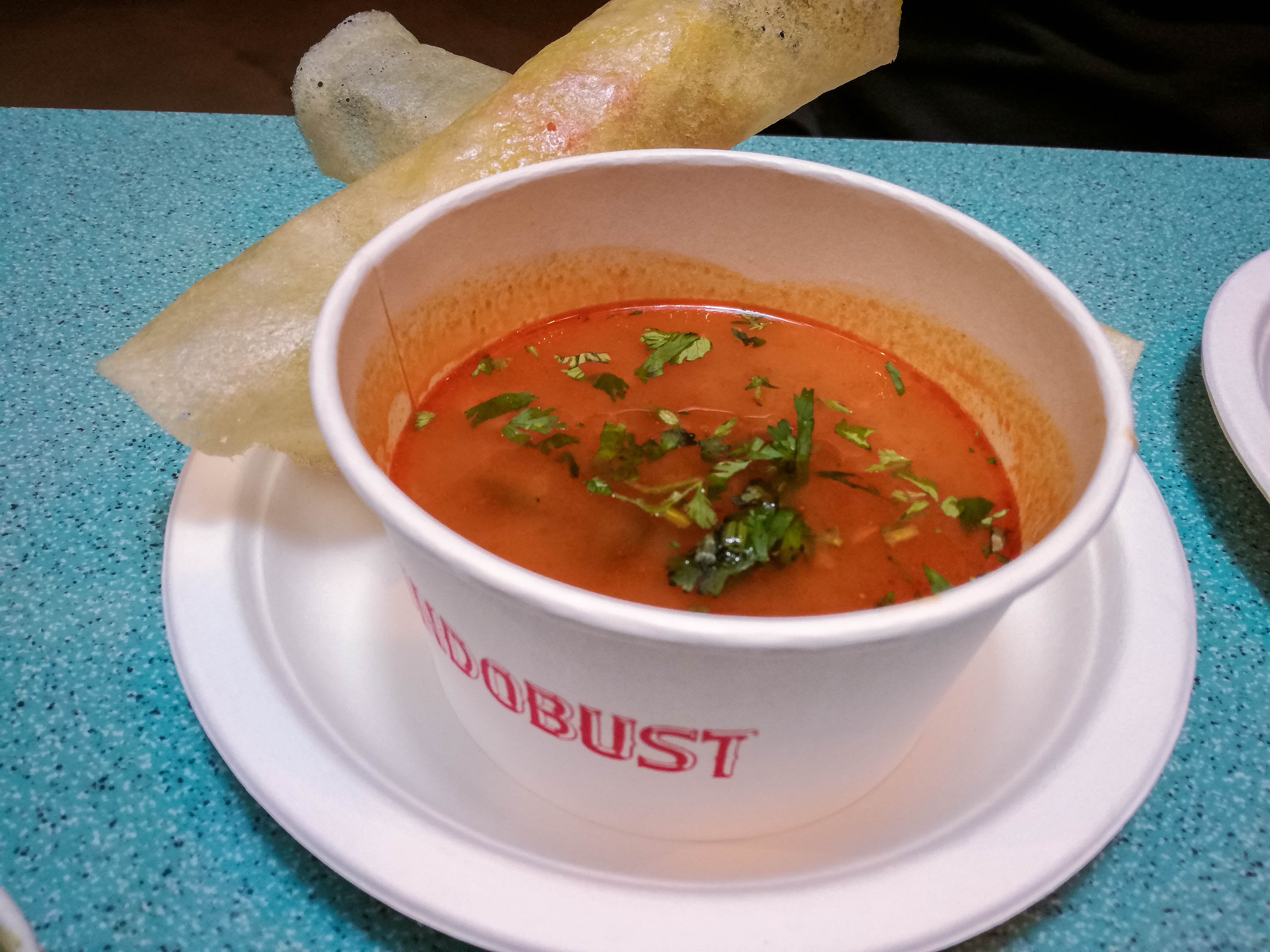 Waistlines almost stretched to bursting, we managed to squeeze in another round of drinks (the same wheat beer for him, a mango lassi for me, topped with flavourful spices and Indian liquorice sweets).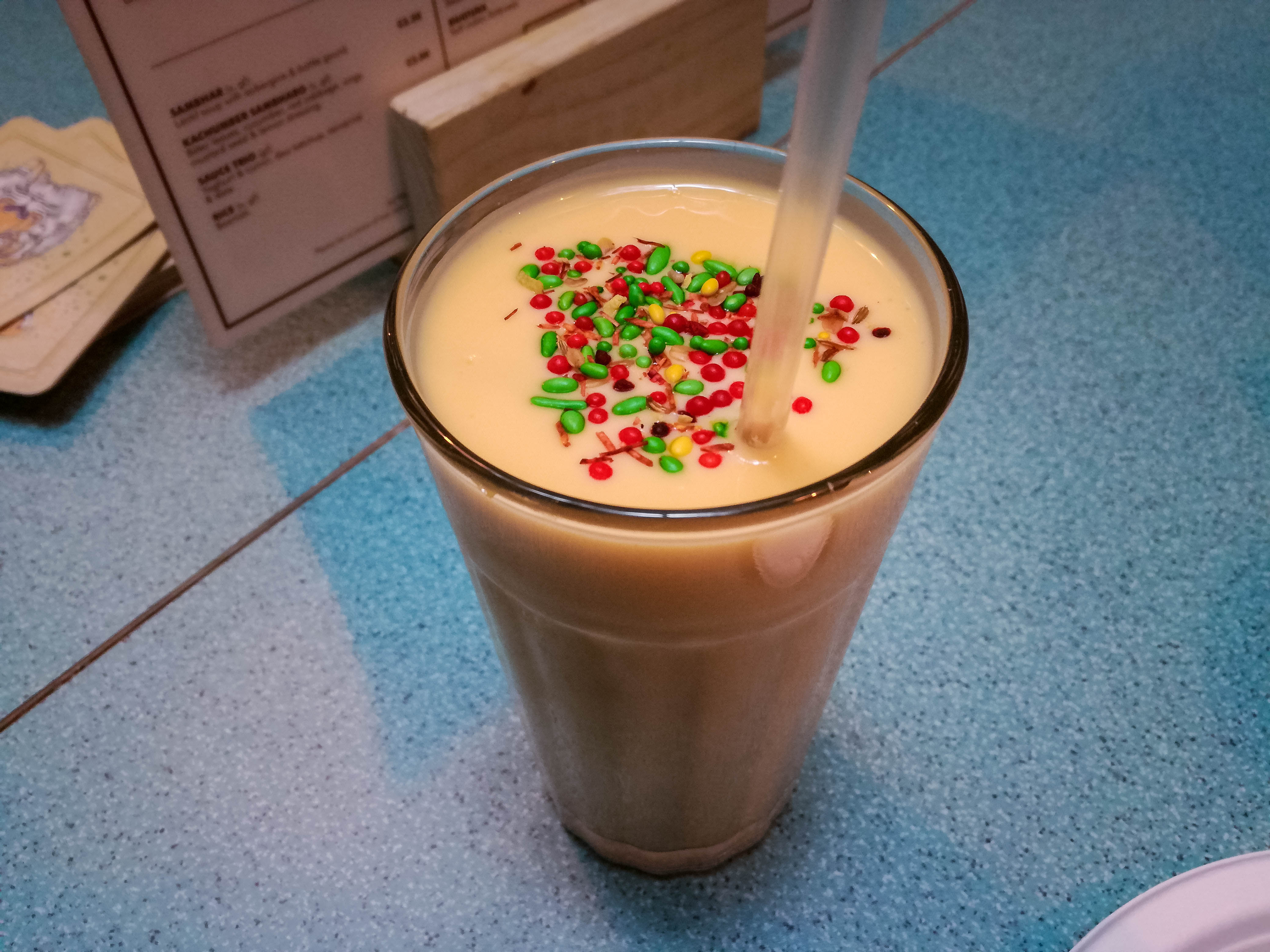 The bill was extremely modest considering how full we were (less than £40 for the four drinks and six dishes), but that could in part have been because of a great lunch deal they offer which includes two of a limited number of dishes for £7.

The Verdict: Don't be fooled by the size of the portions – the food is hearty and filling (particularly the potato-and-bread combo). I already can't wait to go back.
61 Piccadilly, Manchester M1 2AG
Open Mon – Thurs 12pm – 9.30pm, Fri and Sat 12pm – 10pm, Sun 12pm – 8pm
1