You know the rumour that you should never order food from the specials menu because it's likely an amalgamation of unwanted leftovers? Well, that was proved somewhat correct during our visit to Yard & Coop.
We (me, the hubby and our friend) had found ourselves in the Northern Quarter, hungry and overwhelmed by the all-American food choices (side note: the NQ has *way* too many faux-American diners and restaurants), when I spotted Yard & Coop on a 'food near me' sweep of the interwebs. It's a fried chicken restaurant and all three of us like fried chicken, so it seemed like fate.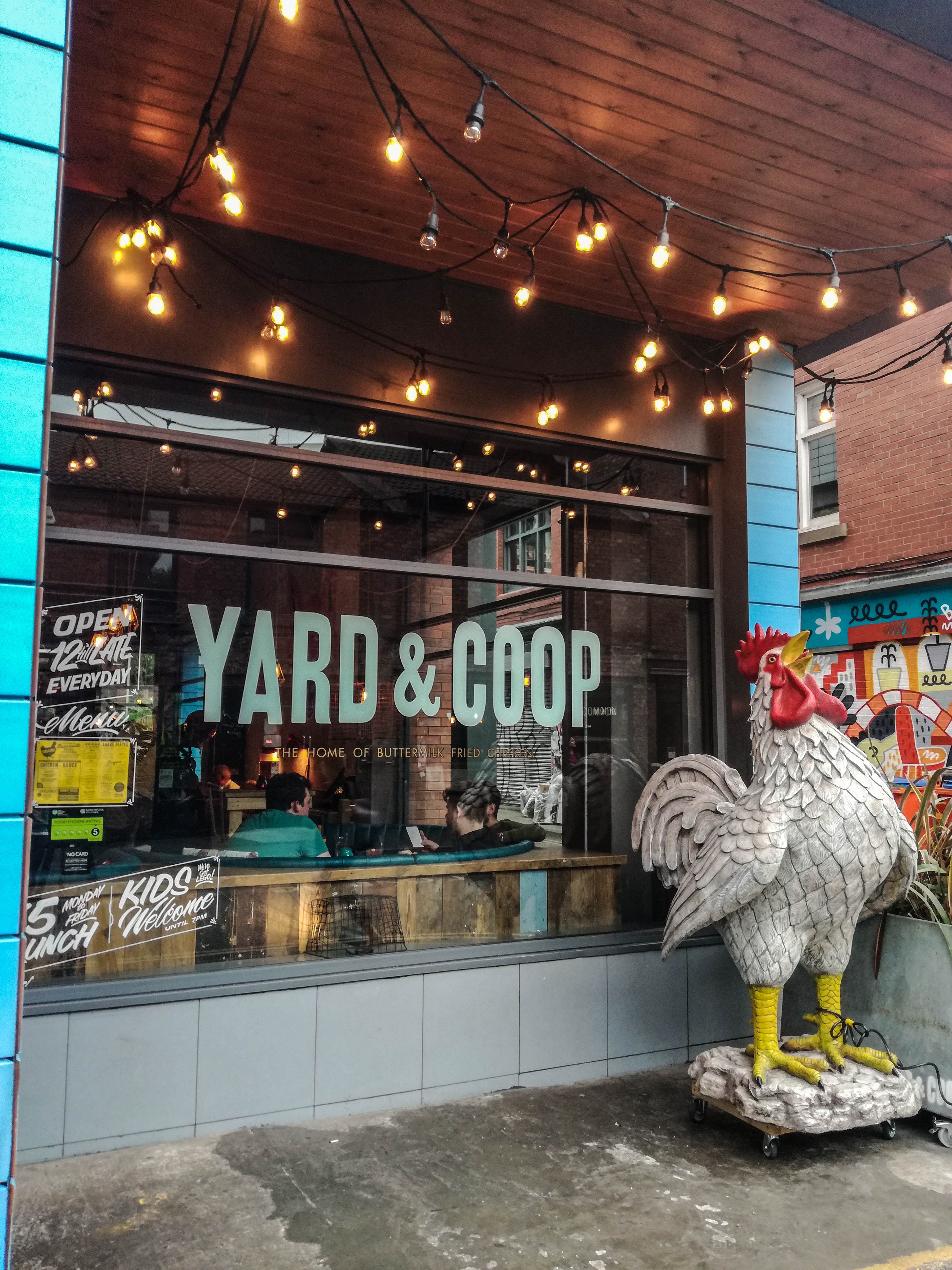 As soon as we approached the large, friendly chicken stood outside, we all immediately read the blackboard with the day's special and decided that we had made the right decision in coming here. It advertised a fried chicken burger with avocado, tomato, rocket, red onion and wasabi-mustard mayo on tiger bread. Sold.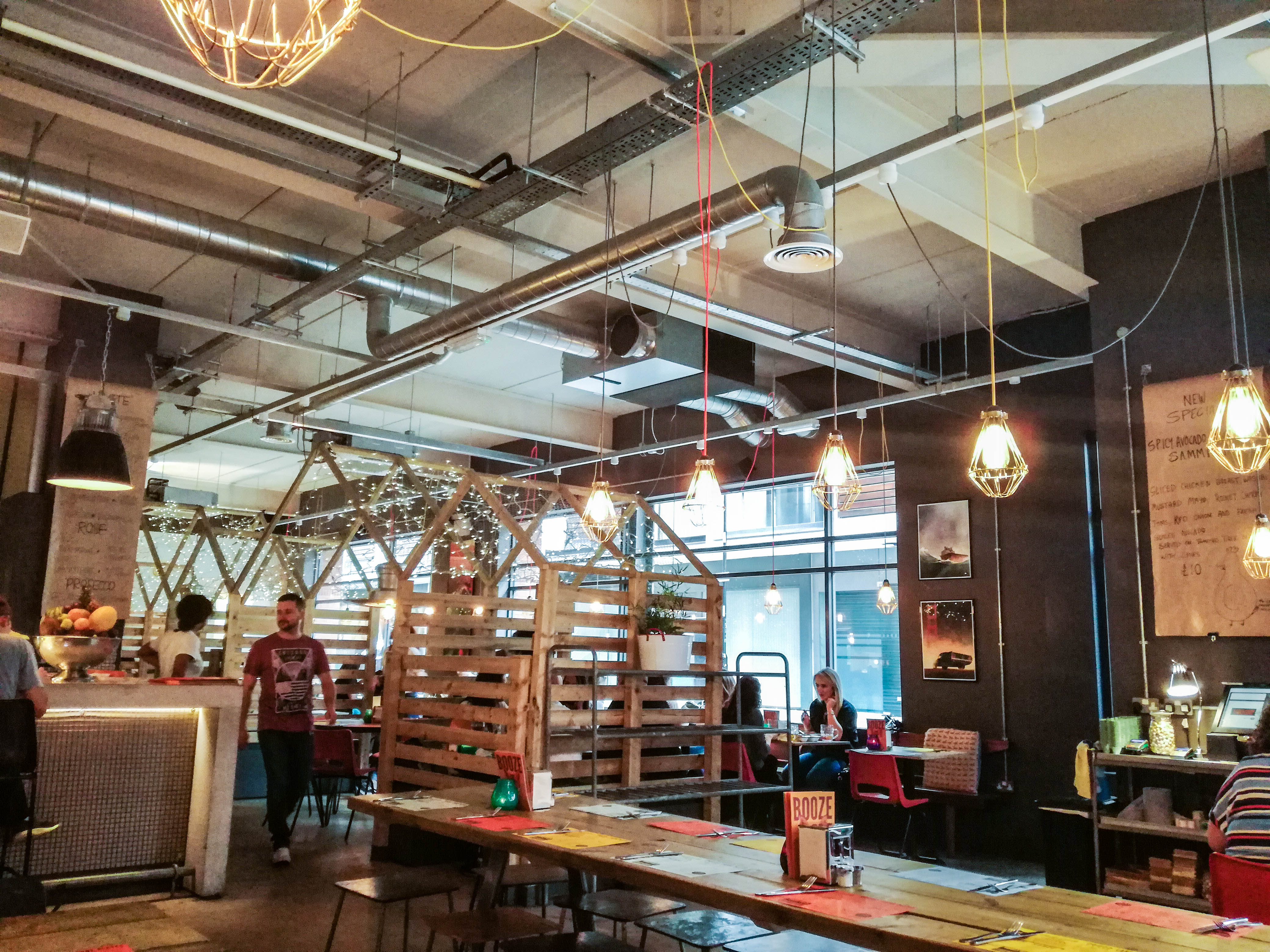 We all remarked how quirky and fun the interior of Yard & Coop was – industrial chic with some fairy lights and bold colours thrown in for good measure – then ordered a round of beers, three of the burgers from the specials menu and a portion of Korean-style chicken wings.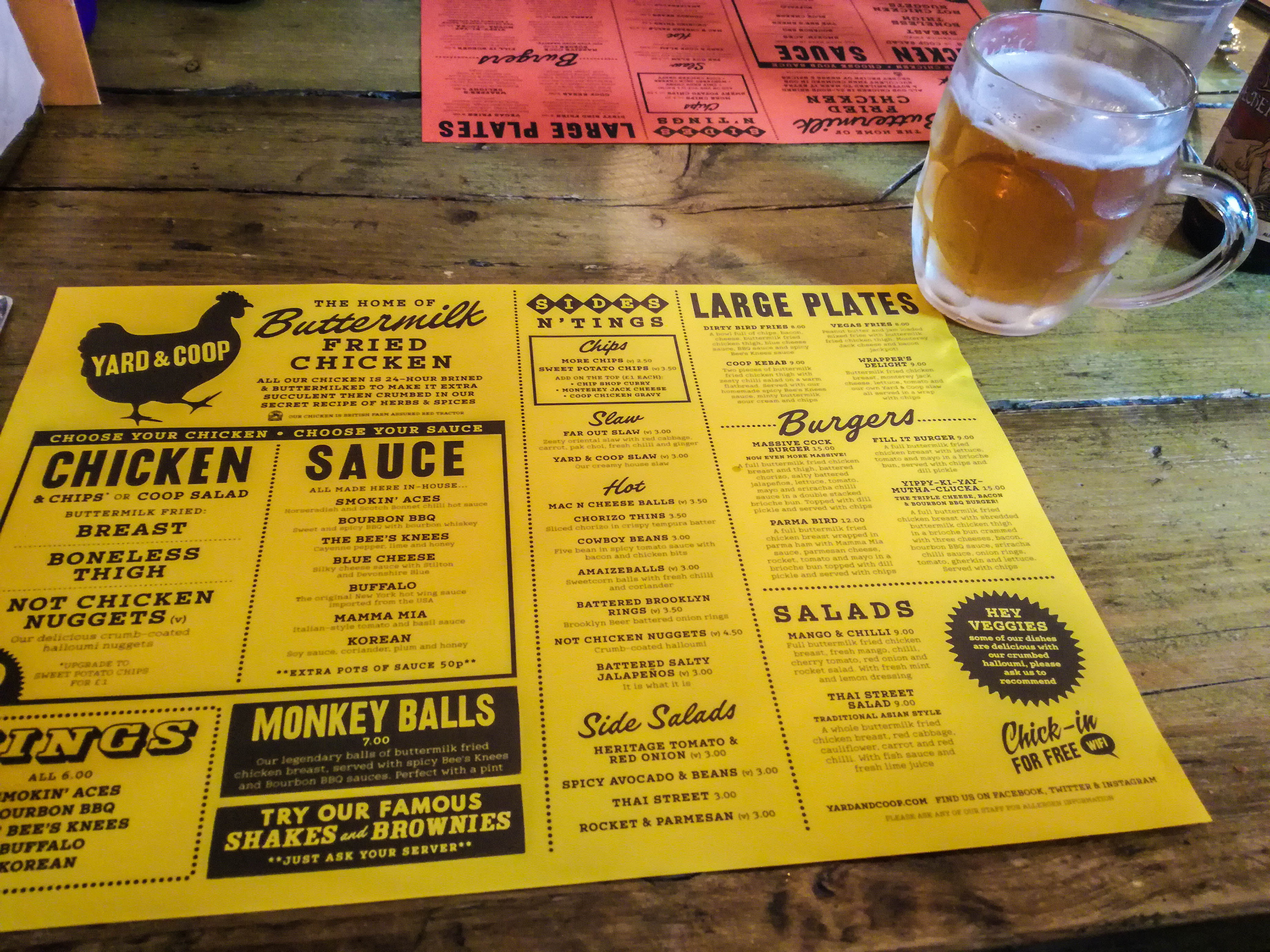 Service was friendly and prompt, which was a good thing, as it distracted us from the fact that half of our burger ingredients were missing. It was only as we'd all eaten over half of our food (we were busy talking) that we realised that it was completely lacking in both the red onion and wasabi-mustard mayo departments. As it was partly this wonderfully spicy mayo that had sold us on the burger in the first place, we were disappointed to say the least.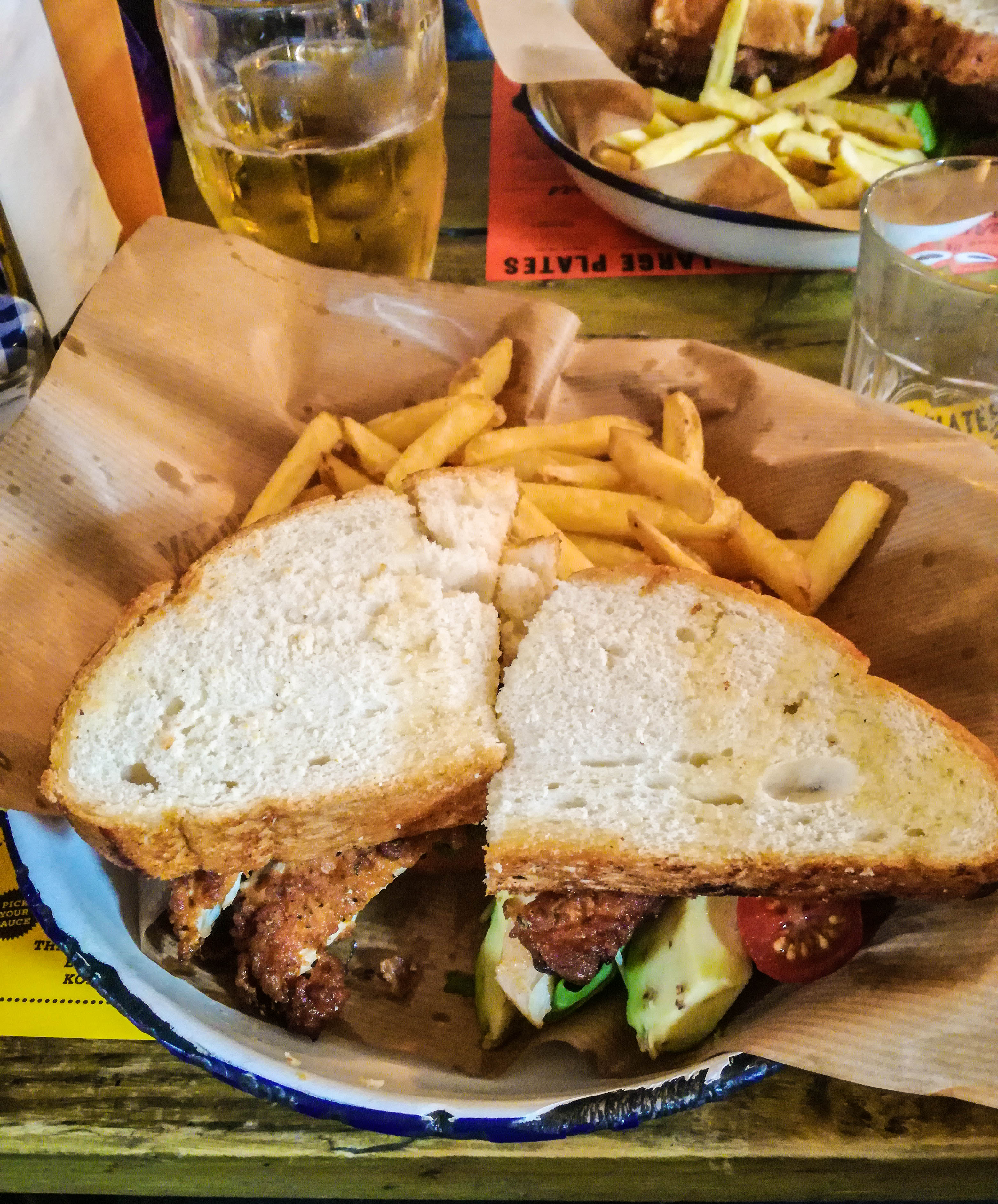 The tiger bread was an odd choice for a burger and couldn't quite contain the individual strips of chicken held within, resulting in a rather awkward thing to eat. The fries were decent, but did nothing to alleviate the dryness in your mouth when eating a burger that has no relish on it (that mayo sure would've been a nice touch…)
The buttermilk chicken itself wasn't too bad, albeit slightly on the greasy side, but despite the fact that the restaurant actually specialises in fried chicken, theirs wasn't even as good as the burger I'd had at Velvet a few weeks before.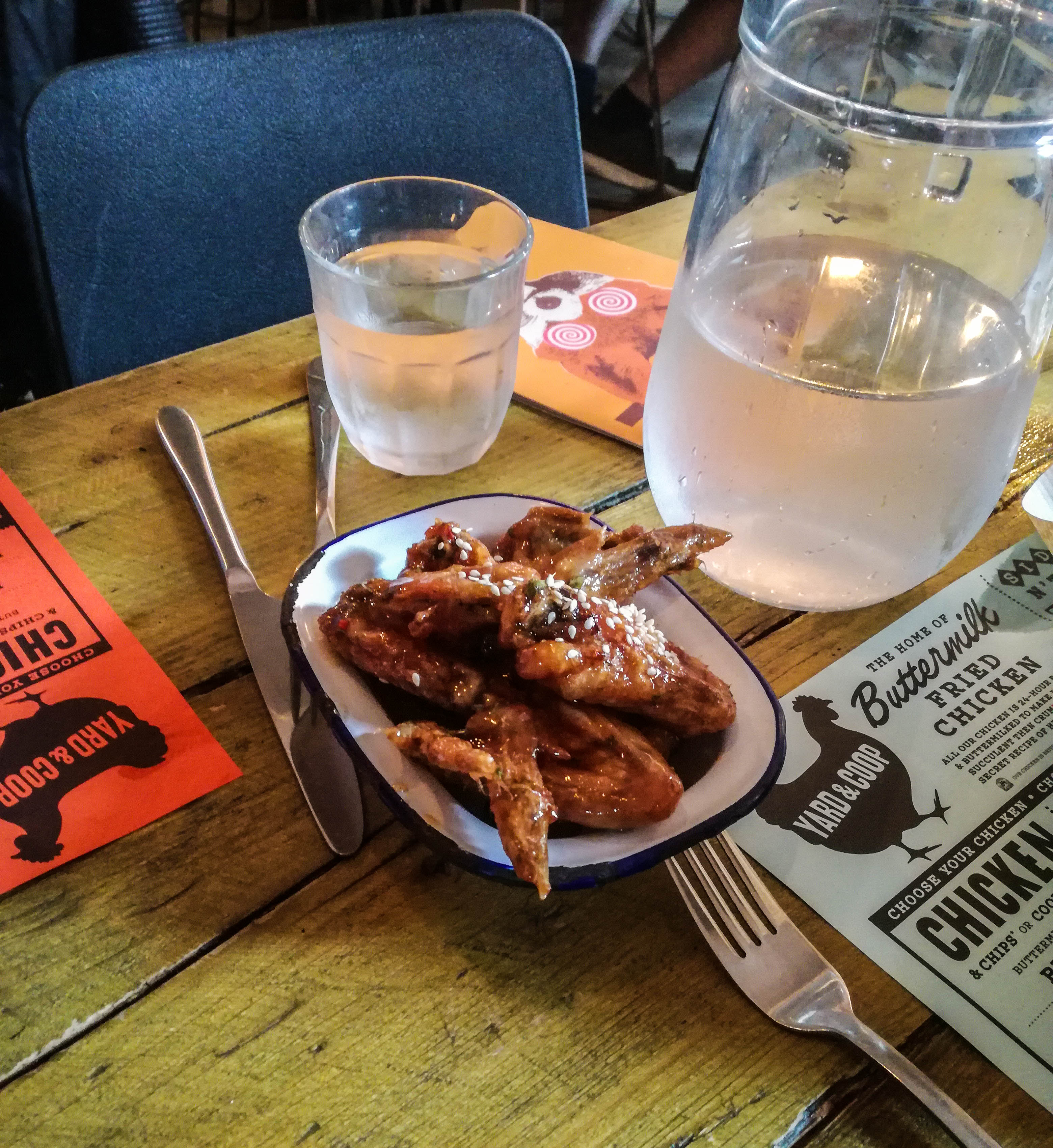 I didn't eat any of the chicken wings, but was assured by my husband that they were "just OK". As someone who has eaten his body weight in chicken wings over the years, I appreciate and respect his input. Just OK it is.
The verdict? This place is extremely cute, but the décor and frosty pint pots of beer couldn't do anything to distract from the fact at least two of the toppings were missing from our burgers. If the wings had been fantastic, I'd write it off as just our own dumb luck for ordering from the specials menu, but I suspect that this place may be a little 'style over substance'.
23-37 Edge Street, Northern Quarter, Manchester M4 1HW
Open Tues – Sat 12pm – 1am, Sun and Mon 12pm – 12am
0