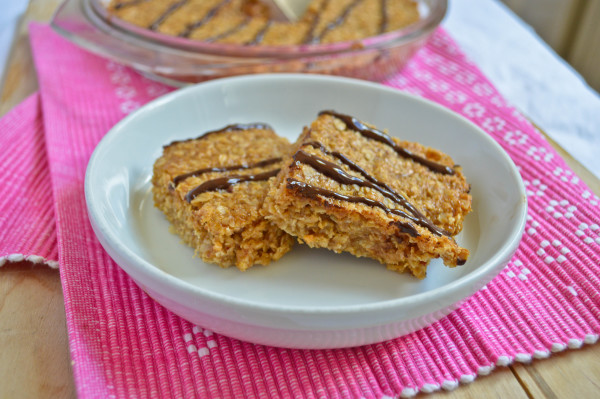 Peanut butter, how much do I love thee? Let me count the ways…..
No really, let's count. First there was the peanut butter waffles, then there were the dog treats (that I was tempted to eat myself…don't tell the dog) and then there was the hot chocolate.
And that's just the recipes I've shared on here. That goes no way to talk about the fact I eat it slathered on my toast almost every day of the week.
My love affair with peanut butter has been a strange one. As a child, I detested it. I hated peanuts in any shape or form, actually, and after one spoonful of cheap supermarket-brand peanut butter, I had sworn off it forever.
Then I grew up – my tastebuds evolved – and I started seeing delicious recipes using peanut butter everywhere. I saw organic and fancy-looking tubs of it spring up in the supermarket and I was intrigued. Intrigued enough to give it one more go. I bought a jar of Whole Earth organic peanut butter and the love affair began. It was nothing like the synthetic stuff I'd tried as a kid. I was hooked.
Fast forward to today and it is a staple of many a vegan and paleo diet. I'd go so far as to say that if you don't like peanut butter, you're sorely missing out on some delicious recipes. But each to their own.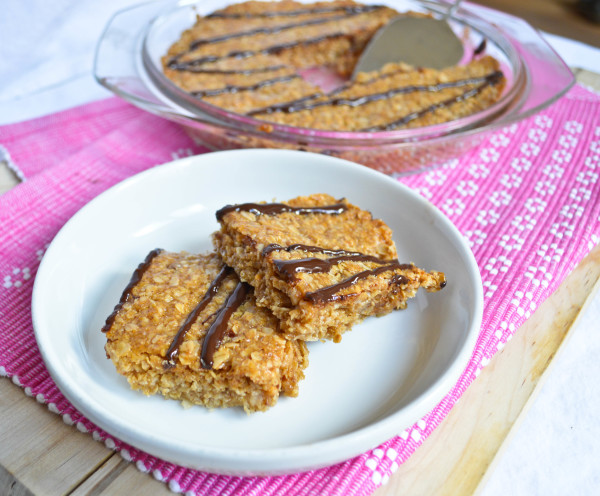 Can I also add that I have now turned Scott into a peanut butter convert too? He used to despise it until a few months ago. Now I catch him licking it off the spoon every morning. Maybe I shouldn't have told him how tasty it was, because now I have to share…
Now that I have someone to share my love of peanut butter with, I've been incorporating it into lots more recipes. It's so versatile. And with my love of flapjacks, it was only natural that I tried them with peanut butter.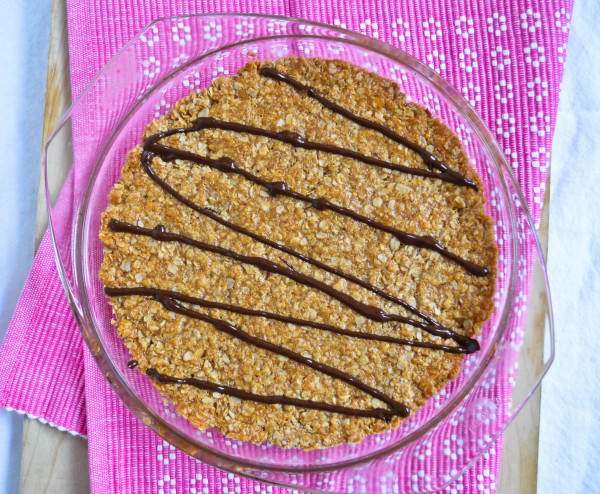 They turned out amazingly well.
These peanut butter flapjacks are rich and sweet, so don't say I didn't give you fair warning, especially if you don't have a sweet tooth like I do. A small square will go a long way. Or, if you're like me, a few big squares. Ok, half the tray. Whatever. Stop judging.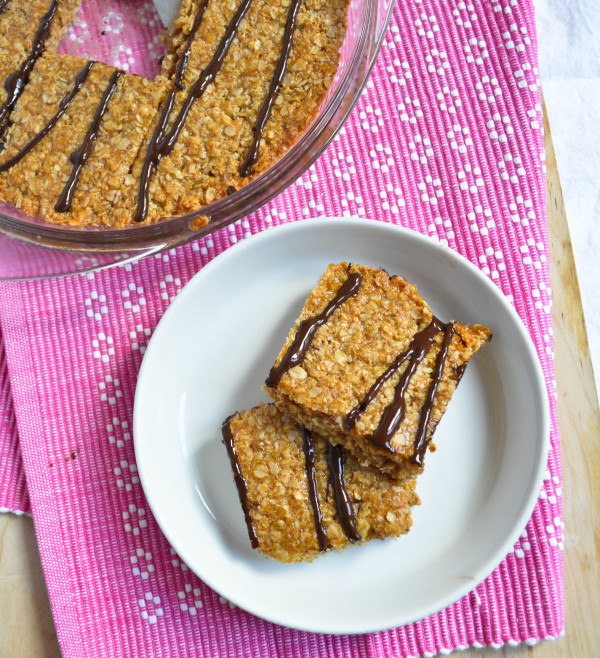 P.s. after shooting these yummy flapjacks, I went a bit crazy with the melted chocolate and made a Jackson Pollock-esque mess. It was glorious and therapeutic. I totally recommend it.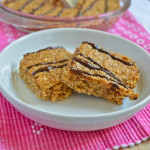 Peanut Butter Flapjacks
2015-03-29 04:53:07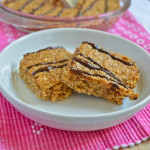 A delicious peanut butter flapjack recipe using honey and coconut oil instead of the usual syrup and butter.
Nutrition Facts
Amount Per Serving
* Percent Daily Values are based on a 2,000 calorie diet. Your Daily Values may be higher or lower depending on your calorie needs.
Ingredients
125g (1/3 cup) honey
67g (1/3 cup) light brown sugar
5 tbsp coconut oil
75g (1/4 cup) peanut butter - either chunky or smooth
230g (2 cups + 2 tbsp) rolled oats
Pinch salt
75g (1/3 cup) dark chocolate chips (optional)
Instructions
Preheat oven to 150C / 300F and grease and line a 23cm square (or round) baking dish.
In a small saucepan, melt the honey, sugar, coconut oil and peanut butter until smooth and combined. If you used chunky peanut butter, you will still have peanut pieces in the mixture, but the rest should be smooth and silky.
In a mixing bowl, combine the oats and salt, then pour in the peanut butter mixture. Stir until everything is combined.
Spoon the flapjack mixture into your baking dish and press down with the back of the spoon to level. Make sure to push the mixture to every corner of the dish for even baking.
Bake for around 25 minutes or until golden brown.
Leave to cool for around 5-10 minutes, while melting the dark chocolate in a microwavable dish in the microwave, or over a pan of simmering water.
Drizzle the melted chocolate over the top of the flapjacks. Leave to cool and set slightly, then cut into squares and enjoy.
Confused Julia https://www.confusedjulia.com/
12