Sometimes, when you're craving Asian food, you just have to give in and find some immediately. Part of the beauty of Asian food is that it is cooked quickly, making it a great cuisine to eat when you want something that's fast and relatively cheap.
Which was how we found ourselves on a street littered with Asian restaurants in the centre of Amsterdam on a recent Sunday evening, looking for Vietnamese food. We landed at Little Saigon after reading decent reviews online and decided to give it a go.
The menu at Little Saigon is small. They focus on dishes of pho, bahn mi, noodle bowls and a few small appetizers. As we're currently vegetarian, we couldn't indulge in pho as there were only beef options. We were also limited in the appetizers; the only thing we could order being shrimp spring rolls. But as you get two spring rolls per each noodle bowl, we decided it would be overkill to order them as a starter as well.
I ordered an avocado smoothie, Scott opted for the Lemongrass iced tea. We both ordered a noodle bowl, one with tofu and one with prawns, the idea being that we'd split each and create our own tofu-shrimp hybrid.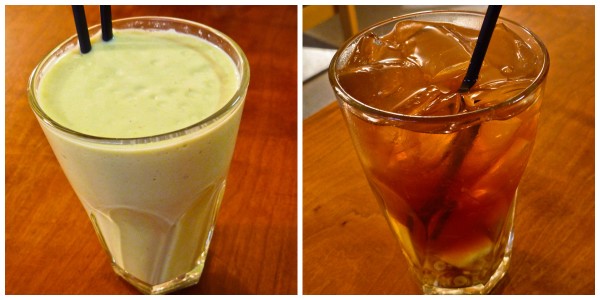 The avocado smoothie was better than I could ever have imagined. It was thick and deliciously creamy, without being overly sweet or savoury. The iced tea was even better – refreshing, sweet and aromatic – and I honestly could have drunk both in one sitting and been a happy lady.
While we were waiting for our noodle bowls, we saw a member of staff bring out a big bag of frozen spring rolls from a back room and our hearts sank. I don't expect a city centre to be making their spring rolls fresh daily (although they wouldn't use that as an excuse in Vietnam), but when you see them in a bag that's clearly come from a superstore, it doesn't instill you with confidence.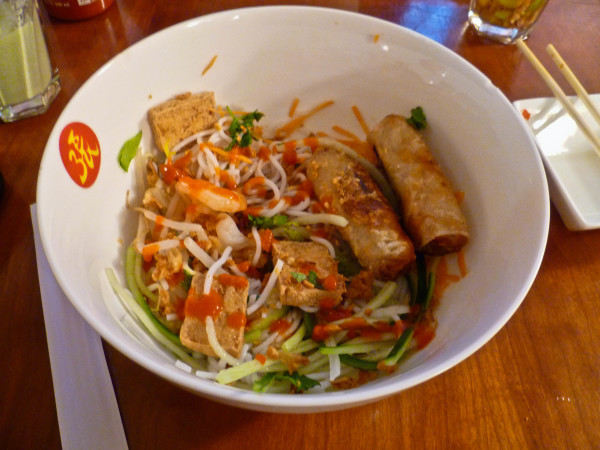 When the noodle bowls arrived, I was underwhelmed. The portion seemed small in comparison to the bowls of pho I'd seen being served to our neighbours and the tofu seemed totally overcooked. The prawns were nice, but there were hardly any of them. The sauce that was served alongside it was a little too runny, and after I'd poured most of it over my dish, it ended up being more like a broth. To be fair, the bought-in spring rolls were pretty tasty (the prawn ones, anyway. The ones in the tofu bowl tasted bland and like they only had potato in them.)
All in all, the meal was pretty uninspiring. Maybe it isn't the perfect place for vegetarians to eat, but that usually isn't a problem in Asian restaurants. The drinks were delicious, and on a hot day I'd probably pop in just to order them alone. Maybe I'd even order a plateful of spring rolls if I was craving something fried. But I won't be going back for the noodle bowls again.
0