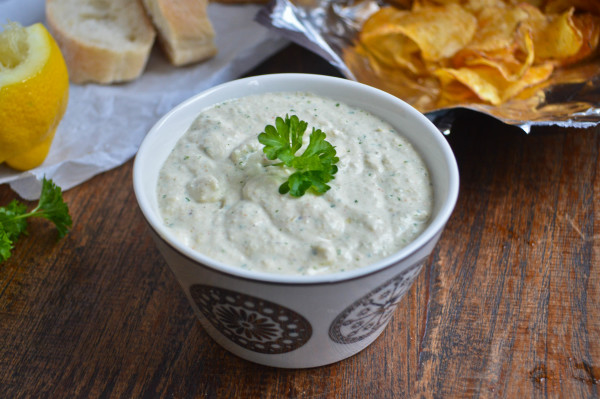 The new year seems like a great time for looking forward, making plans and generally getting shit done. Or, in my case, eating my body weight in creamy artichoke dip.
I have to admit that, since all of the Christmas decorations, lights and music disappeared I've been feeling a little sad. I always do at this time of year, because I love Christmas so much and it seems to pass by so quickly while I'm gorging on everything festive. And I think we can all admit that our houses would look much better if we had a pretty tree and lights in them all year round.
Plus, when it doesn't have jingly bells in the background, listening to the Sinatra channel just isn't the same. Woe is me. #firstworldproblems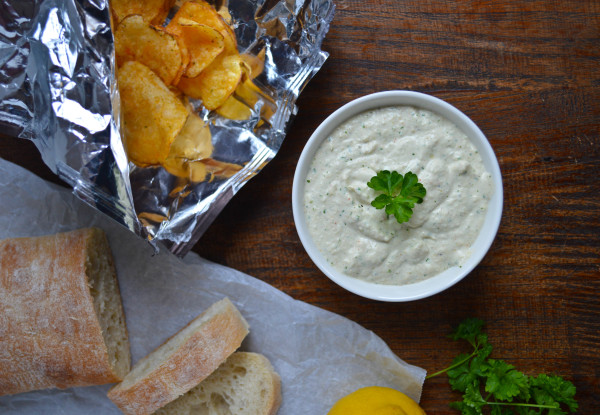 To console myself, I'm been throwing myself into work and also whipping up some new dishes in the kitchen. I feel as though we got stuck in a little bit of a rut food-wise last year, in that we'd make the same dinner several times a month and it became something of a joke. So one of our resolutions it to try and make completely new dishes at least four times a week. It's been great and a big wakeup for our tastebuds.
This little dip came about to due an excess of crisps, bread and general dipping implements in the house, but nothing to eat them with. And after all of the over-indulgence at Christmas, the last thing I wanted to make was a heavy, cheese-laden pot of goodness. Not that there's anything wrong with that, but my arteries, people; I have to think of my arteries.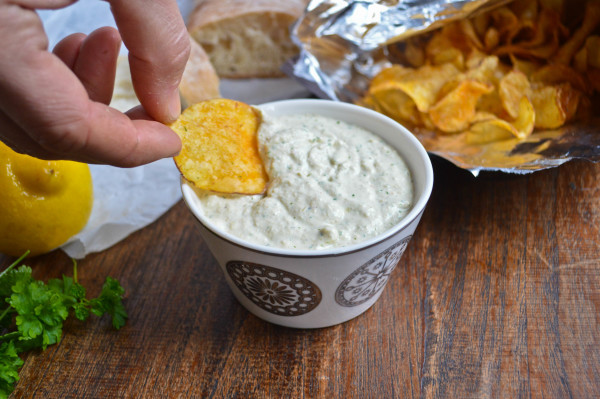 I also figure that this dip has probably come at a great time for my American friends, because dip season is upon us. And by "dip season" I mean awards show and Superbowl season. The perfect time to whip up a dip that's easy to share but doesn't weigh people down or make them feel guilty the day after. This is perfect for that. Or diving into, headfirst, and slathering it on like face cream. Whatever floats your boat.
Easy Low Fat Artichoke Dip
2015-03-28 10:50:23
Serves 6
An addictive artichoke dip that is fresh and light in both flavour and calories.
Nutrition Facts
Amount Per Serving
* Percent Daily Values are based on a 2,000 calorie diet. Your Daily Values may be higher or lower depending on your calorie needs.
Ingredients
6oz (170g) jar artichoke hearts, drained
1/4 cup fresh parsley (equates to one small handful)
1 clove garlic, peeled
2 tbsp lemon juice
1 1/2 cups (150g) low fat sour cream (low fat creme fraiche can be substituted)
Salt and cayenne pepper to taste
Instructions
Place the artichoke, parsley, garlic and lemon juice in a blender or food processor and process until finely chopped, stopping every now and then to scrape the sides of the bowl as needed.
Add the sour cream and process until smooth.
Pour the dip into a medium sized bowl and stir in salt and cayenne pepper to taste.
Cover with plastic wrap and chill in the fridge for at least an hour, to allow the flavours to combine (or overnight if you are making it in advance).
Serve with crackers, chips, bread slices or vegetable sticks.
Confused Julia https://www.confusedjulia.com/
Another great "dip season" dish is my White Queso Chicken Nachos. Dive in!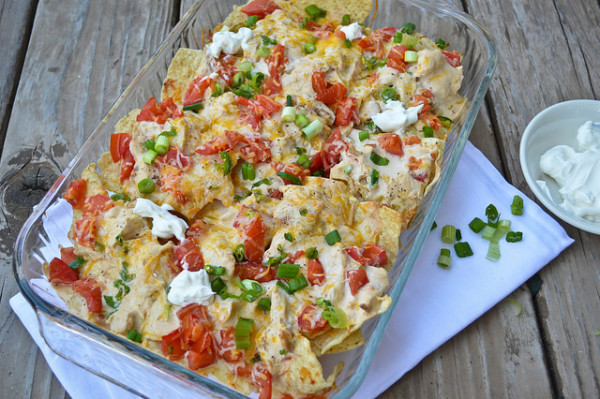 0