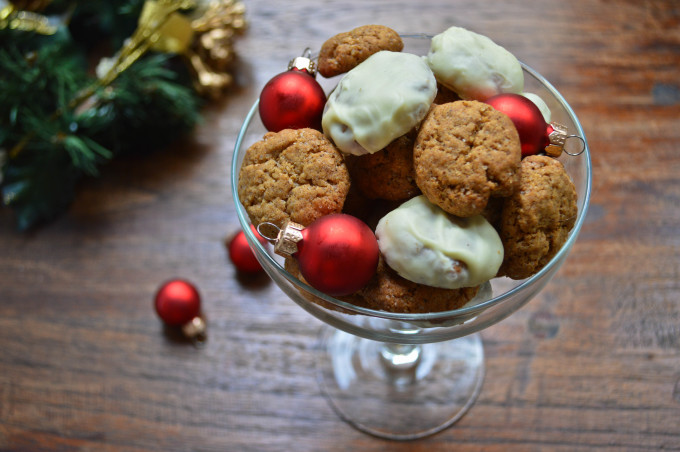 One thing I love about the fact that Saint Nicholas comes earlier to the Netherlands than he does the UK (the main holiday celebration for children here is on 5th December, but the Saint arrives in the country in the middle of November) is the fact that the holiday cookies and treats appear in the supermarket in late September / early October.
There are certain sweet treats in the Netherlands that are only eaten and sold in the run up to Saint Nicholas' Day, so even though most English and American people are only just getting into the swing of things by then (not me – please see my Currently post if you have any doubts about where I stand on this matter), if you don't move fast, they'll be cleared off the shelves and replaced by cheap chocolate Christmas trees.
In addition to speculaas, one of my favourite sweet treats at this time of year is called kruidnoten.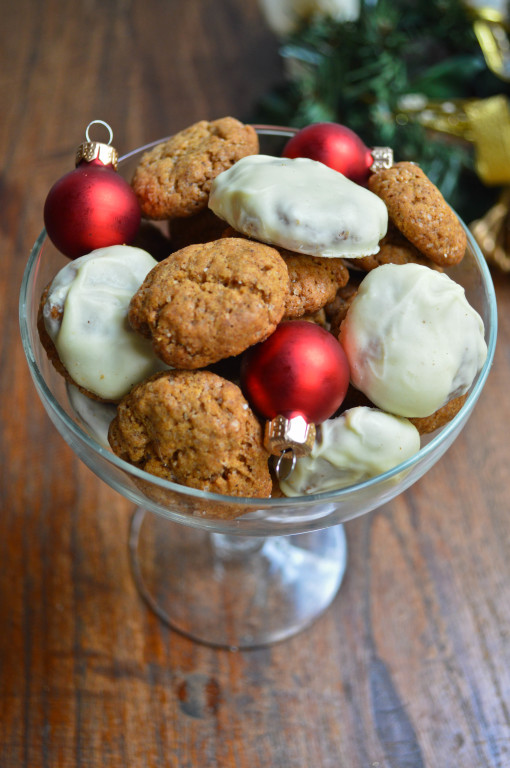 Kruidnoten is a bit like a ginger nut biscuit (in that it's small and crunchy) but made with more complex spices for a unique taste. They can be eaten plain or covered in chocolate, coated in creamy yogurt or even dusted with cocoa powder to create kruidnoten truffles.
The kruidnoten cookies are given to children by the Saint's helpers and will often turn up in children's shoes throughout the holiday period. You can find them in every bakery, supermarket and even drugstore around the country at this time of year.
The only trouble with these little crunchy morsels? I can devour whole handfuls in a matter of seconds.
Seriously, I can inhale half a bag before Scott has even settled down with a cup of tea to enjoy his half. It's kind of scary.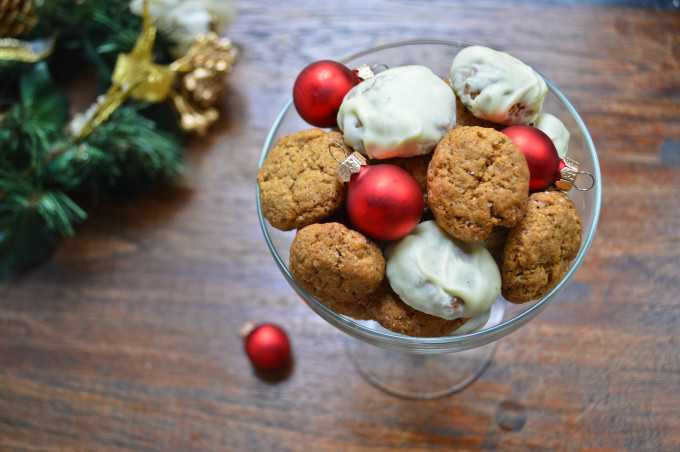 My favourite type of kruidnoten are those that are covered in chocolate (natch), so with this batch I chose to dip half in melted white chocolate. You can also use plain or milk chocolate, a combination of all three, or you can dip them in chocolate and then roll them in cocoa powder before they harden to make your own kruidnoten truffles.
The shop-bought ones are usually very small (think the size of a penny), but I prefer to make mine a little bigger and that also makes them easier to dip (and also not eat as quickly. Maybe.)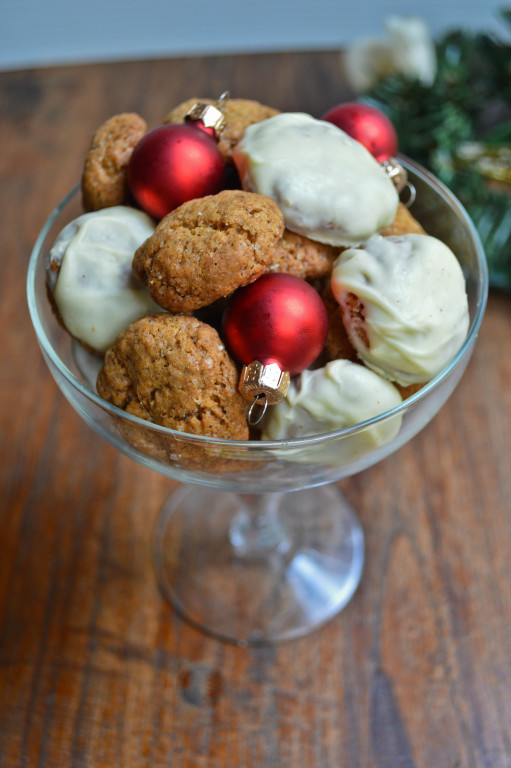 I assure you, once you taste these cookies, you'll never want to go back to plain old crunchy gingerbread again.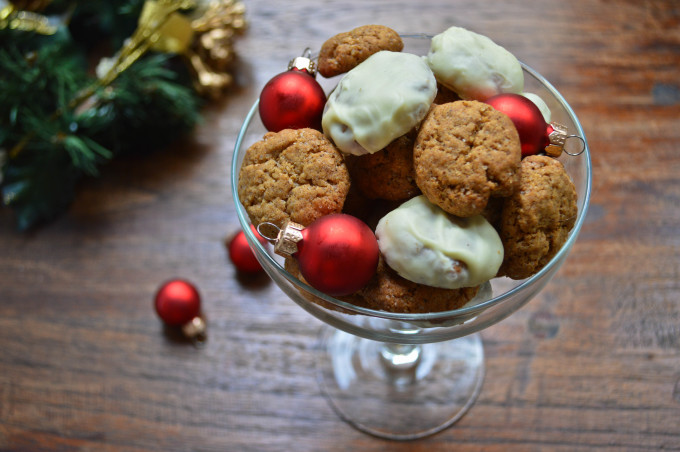 Kruidnoten
2015-11-19 04:19:09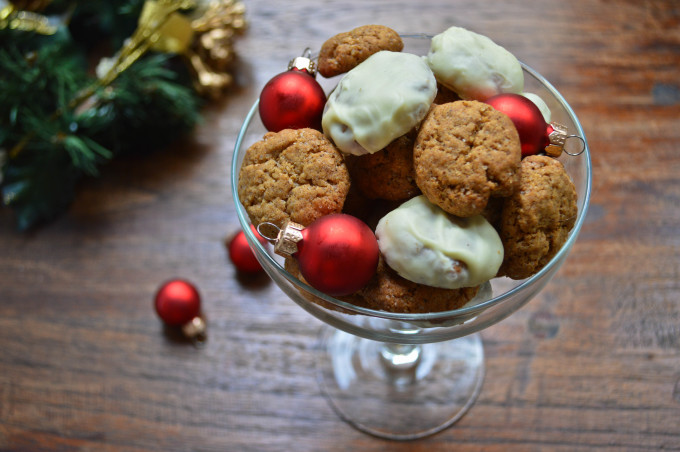 A Dutch spiced cookie that smells and tastes like the holidays!
Nutrition Facts
Amount Per Serving
* Percent Daily Values are based on a 2,000 calorie diet. Your Daily Values may be higher or lower depending on your calorie needs.
Ingredients
1 1/2 cups (200g) self-raising flour
1/2 cup (100g) demarara sugar (I used brown raw cane sugar which also works well)
1/2 cup (100g) unsalted butter
2-3 tbsp milk
1/2 tsp baking powder
Grated zest of half an orange
1 tbsp ground cinnamon
1/2 tsp ground cloves
1/2 tsp nutmeg (powder or grated)
1/2 tsp ground cardamom
1/2 tsp ground ginger
Melted chocolate for dipping (optional)
Instructions
Combine all ingredients in the mixing bowl of a food processor with a dough hook attachment (or knead carefully by hand) until everything is fully combined. Shape dough into a large ball, cover with plastic wrap and chill in the fridge for around half an hour.
Preheat oven to 350F / 180C. Grease a large baking sheet.
Roll dough into small balls (around 1/2 inch, or the size of a marble) and place in rows on the baking sheet, allowing a little room between each. Press the top of each ball of dough down lightly with your finger.
Bake for around 15 minutes, or until the cookies have hardened and turned a slightly darker shade of brown. Leave to cool completely and then enjoy, or melt a bar of chocolate over a pan of warm water and dip half of the batch of cookies in the chocolate, flipping with a fork or spoon to cover each side. Leave to harden and then enjoy.
Notes
If you don't have / can't find all of the spices, pumpkin spice powder can be substituted (use 4 tsp in place of all spices listed) - but the flavour will be slightly different from the original.
You can roll the dough into smaller balls if desired - this will yield around 100 cookies.
Adapted from about.com
Confused Julia https://www.confusedjulia.com/
0