When you find yourself in possession of a car and want to enjoy a hearty feast next to a roaring fire in a country pub, where do you head? The Inn at Whitewell in the Forest of Bowland, of course.
Made famous a few years ago on The Trip, stepping into this inn feels like stepping into a parallel universe – one in which time stands still while you enjoy great food under the watchful gaze of several stuffed animal heads.
But seriously, this place has got an appeal that's hard to put into words, so we'll just get straight onto the meal, shall we? Our first at the Inn, and definitely not our last.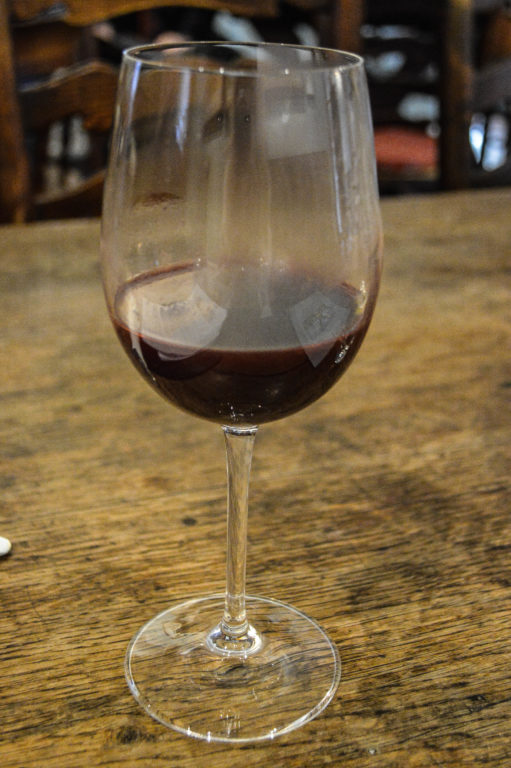 First up, I ordered a glass of mulled wine (well, it's Christmas). The mulled wine was some of the most rich and satisfying I've ever drunk (and I've drunk a LOT of mulled wine, as all my trips to Christmas markets will attest). It was deep and wonderfully spiced – not saccharin sweet like most that come pre-made out of a bottle. Basically, you could tell it had been homemade, partly because of the sediment that sat on the side of the glass after each sip.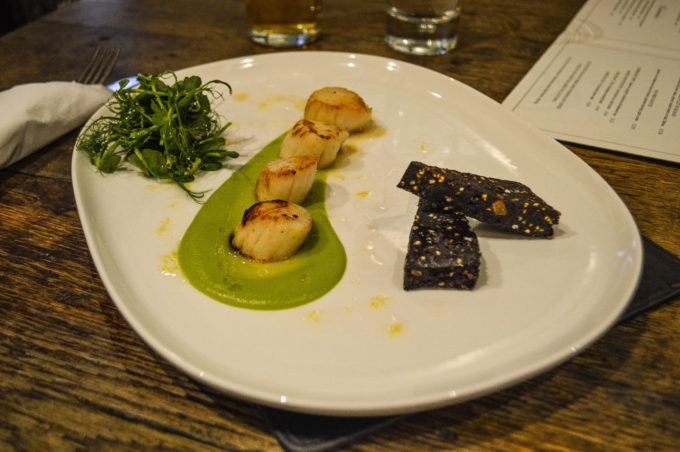 Shared starter was a scallop dish from the specials board, which came with a pea puree and homemade black pudding. The scallops were perfectly cooked and creamy. The black pudding (which looks oddly like tiffin in the photos, for some reason), although not quite as spiced as 'traditional' black pudding, did have a nice nutty taste. I think even a black pudding hater may be able to stomach this homemade version because it definitely wasn't fatty.
I opted for fish, chips and mushy peas for main course. The fish and chips were, well fish and chips. I always have a soft spot for the dish, hence why I seem to always order it, but there's never anything really spectacular you can say about it. However, the batter was perfectly thin and crisp (with meaty fish all the way to each end, so no mouthfuls of empty batter here) and the chips were delightfully crispy, almost like they had been tossed in flour before frying (perhaps chickpea or polenta flour?). All in all it was a great representation of my most favourite of British dishes.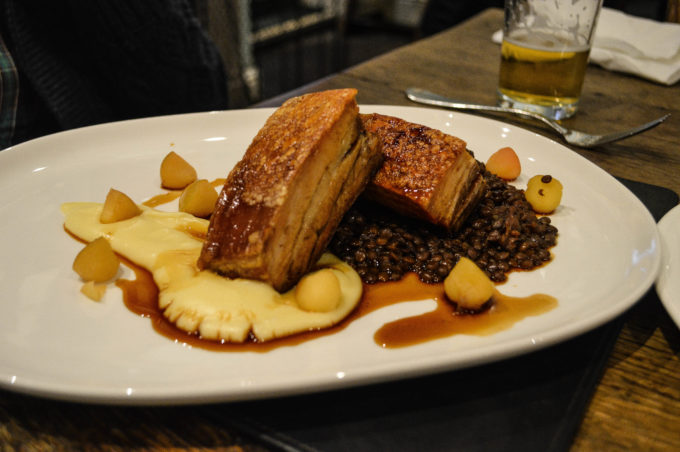 Scott chose the slow roast belly pork with braised lentils, parsnip puree and cider apples. The pork belly was fall-off-the-fork tender, and the crackling was some of the thickest and most crisp I've ever eaten. Lentils were earthy, and the parsnip puree packed a punch with its natural sweetness.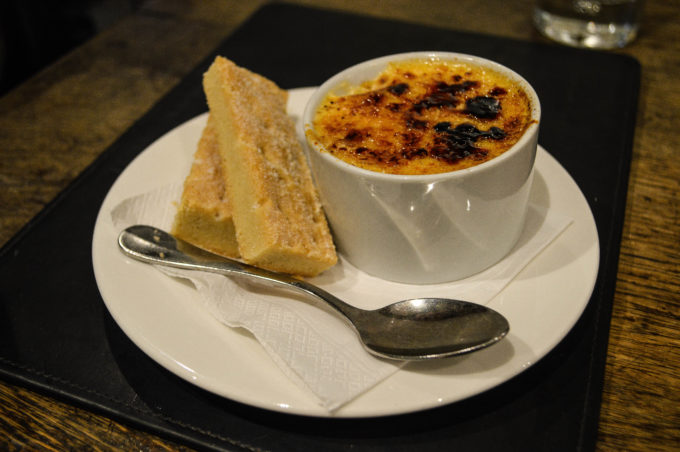 For dessert, Scott went for the toffee apple crème brulee with homemade biscuits. Despite my lack of interest in apple desserts, I could easily have polished this off in a few greedy spoonfuls. The crème was decadent, layered with buttery toffee sauce and apples underneath and the homemade shortbread was crumbly and creamy.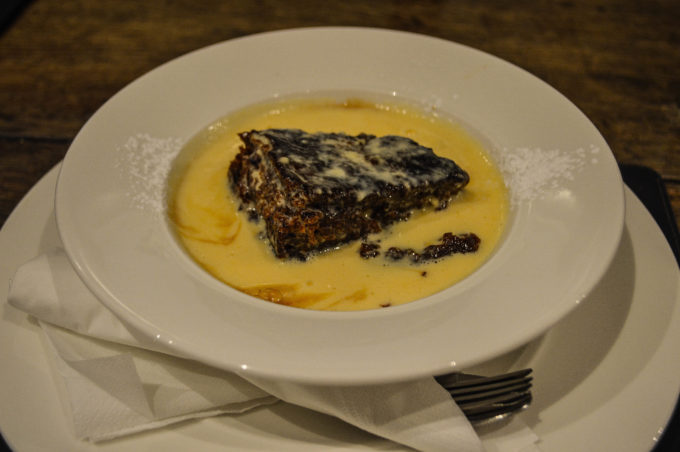 I went for my classic dessert choice of sticky toffee pudding. It was one of the best I've ever tasted (and I've eaten a LOT of sticky toffee puddings). It was soft and spongy, not dense and close-textured, as is often the result of microwaving. The butterscotch sauce was silky and gave the crème analgise a nice added sweetness. You could also clearly taste the dates in this pudding, which doesn't happen often.
Aside from the great meal and the roaring fire next to us, one of the best elements of this meal was having our dog by our side (the Inn is very dog friendly – something to be aware of if you dislike dogs or have allergies).
Forest of Bowland, Clitheroe, Lancashire,BB7 3AT
0