Christmas beauty advent calendars are big business these days, and having lusted after one for a couple of years now, I took the opportunity to pick up an M&S beauty advent calendar this last year. You have to spend £35 on items from M&S beauty, home or fashion departments to be able to purchase one for £35 (so basically your total spend will be at least £70). We were purchasing some Christmas ornaments for our house and the total came to over £35, so it seemed rude not to pick up one of these at the same time and see what all the fuss was about.
Firstly, let's talk abut the design. I love the Christmas tree-style of this advent calendar, as opposed to the ones that are just flat. It looked really pretty stood in the living room next to the Christmas ornaments, and almost looked as though it was an ornament in itself, although obviously it started to look a little less appealing once the boxes started to disappear each day. But I guess you could open each box and put it back in its place if you wanted it to look good for the whole holiday season (dammit, why didn't I think of that?). And you could even save it for the year after and fill the empty boxes up with your own treats! (I'm full of good ideas, me)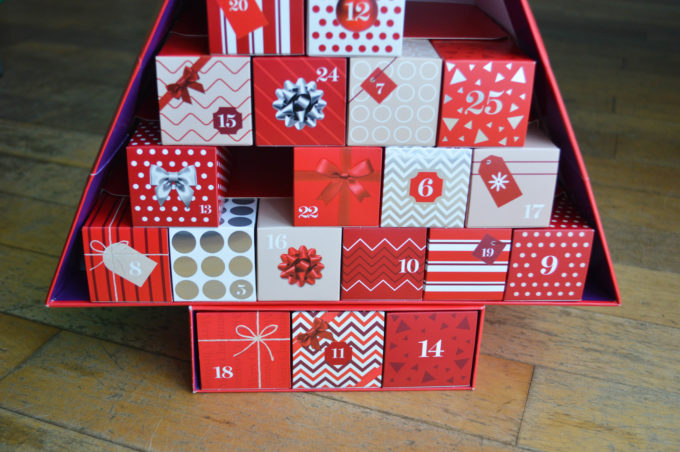 What Was the Range of Products Like?
Now: the products. Considering M&S claims that the full retail of this calendar is £250 if you were to purchase it on its own (not as part of the £35 deal), I had high hopes for what was inside. Obviously a lot of the products are trial size or miniature, but I wanted to see some high-end brands in there and products that I could use to travel with. I was also obviously looking to discover some new brands and products that I could potentially re-purchase in the future.
Although there were many trial sizes, I was surprised by the number of full-size products. There were two nail varnishes, a lip gloss, lip balm and eyebrow gel that all seemed to be full size. Some other products (such as hand creams, body lotions and hair treatments) weren't full size, but were definitely large enough to last you a few uses and get a good feel for the product.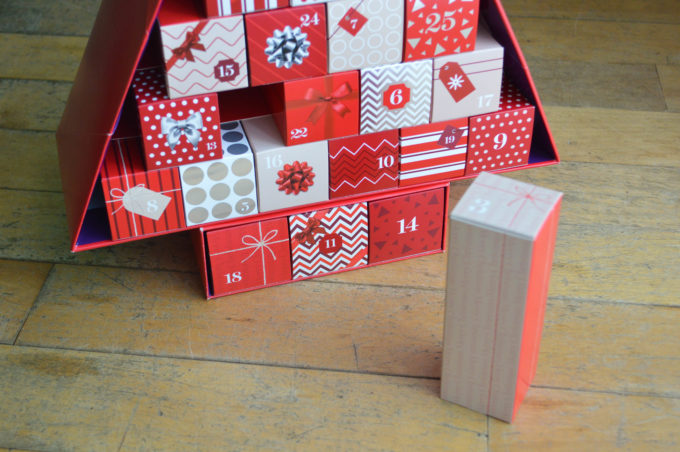 My Favourites and New Discoveries
I'm glad to say I did discover some great new products for myself in this advent calendar. The Liquid Gold has been on my 'must try' list for a long time and I'm happy to say that it works just as well as everyone claims (and will be getting purchased when this one has run out). I love the Neal's Yard hand cream (and am still using it nearly every day despite getting it on day one – although weirdly they don't sell it online) and the cranberry colour of the Nails Inc. nail varnish is perfect for Christmas/winter.
Another great find was the Filorga Time Filler, which I'm trying to use sparingly because the full-size price is high. The tube in the advent calendar is 15ml, and it works great as a primer on top of moisturiser, leaving my skin smooth and prepped for makeup.
I was pleasantly surprised to get a full sized Burt's Bees lip balm, having lost my last one, and a travel-sized spray from Shay & Blue (which isn't their famous sea salt caramel fragrance but still a lovely jasmine/vanilla scent).
I also discovered the Leighton Denny crystal nail file, which is something I probably never would have purchased on my own. The Autograph lip gloss stick is more of a tinted balm, but still gives my lips a nice colour and little shine. And the Wonder Balm smells gorgeous – although who knows whether it actually does anything special to my hair that my regular serum doesn't.
And lastly, the Look Good Feel Better mini powder brush is ideal for travelling / popping in my handbag, has super soft bristles and is perfect for sweeping over setting powder to finish off your makeup.
Basically, there was a lot of good finds!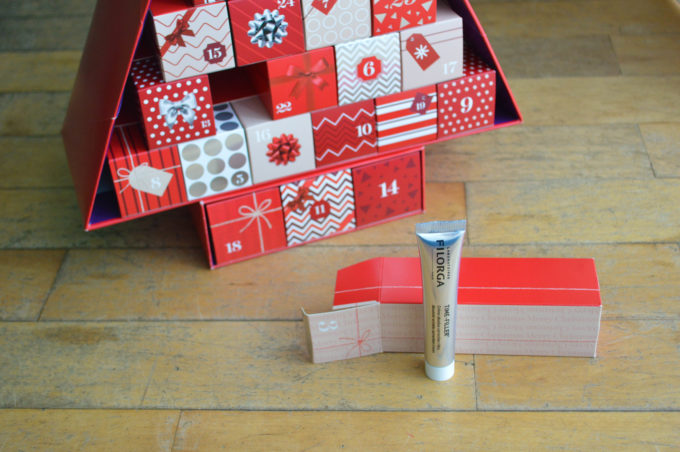 Any Misses?
There actually weren't any misses in the advent calendar, as such. There were a couple of tubes of moisturisers that I may use if I go away for a couple of nights, but wouldn't purchase in full size. And the other things that I didn't really like/use are personal preference and are brands that a lot of people go crazy for. I can't stand the scent of the Emma Hardy balm (despite it having a cult following), but I'm glad I got to try it out from this calendar instead of buying the full sized pot as I may have done, and then been disappointed.
And I don't really like the Nuxe body oil (again, a cult classic) because it's so dry and light that I don't feel it really moisturises my skin, particularly in winter. But the bottle of this was a nice 30ml size, so if you're a fan, you'd have been pleased.
Would I Buy It Again?
Overall, I would definitely buy an M&S beauty advent calendar again next year if there's a different range of products inside and if I was planning to spend £35 on something at M&S anyway. But I definitely wouldn't spend £250 on it (who the heck would?!) It did introduce me to some new products and to some ones that I'd been wanting to try for a long time, plus it was fun alternative to the usual chocolate advent calendar (I had one of those too – I'm not an idiot).
8