After a great two days at Oktoberfest this year, I learned a few things about the festival and made a few mistakes that I won't be repeating again. Here's my Oktoberfest tips for girls – because I don't think there's enough information out there for women attending the festival.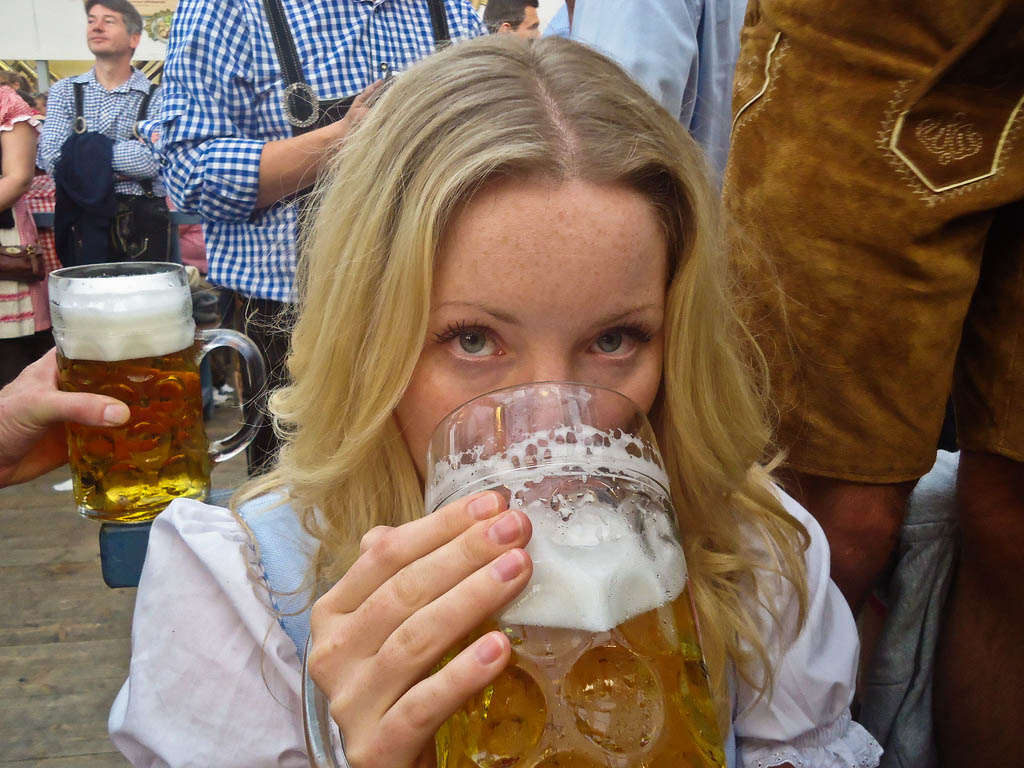 Where to Buy a Dirndl
Let me start off by saying that please, do everyone a favour, and don't even bother buying one of those cheap Oktoberfest costumes that you see on so many costume party websites. They are nothing like traditional dirndls and everyone at Oktoberfest will be able to tell from a mile away where you bought it from. It is better to wear normal clothes than to wear one of those cheap imitations. Dirndls are traditional dress, but that doesn't mean that they can't be sexy. It's worth remembering that the skirt shouldn't be too short – the focus is definitely on the corset and cleavage of a dirndl. Plus, in the chilly September/October weather, you'll be glad of that longer skirt.
If you don't have the budget (or the time) to buy one from an alpine outlet shop around Munich, then high street store C&A stock a huge range of affordable dirndl dresses in a variety of sizes and colours. There is even a C&A store across the street from the Hauptbanhof, so it couldn't be easier to pick one up before you head to the Oktoberfest.
There are several outlet stores in and around Munich which sell traditional styles and colours of dirndls, although you would need a car to reach them, as they tend to be situated on the side of highways. Major suppliers include designs from brands like Alpenhorn, Alpenfee and Alpen Schatz. If you are confident enough, you can Google "trachten" (the German word to describe this Bavarian style of clothes) and buy a dirndl online from a German retailer.
Often, you will be sold a dirndl in three separate parts – the skirt, the white blouse and the corset (the apron may also be included in with the skirt). But I would only recommend this if you plan on wearing your dirndl a lot or using it for several years, as this will usually work out more expensive.
If you can, look for the co-ordinated sets that most outlets offer. They will have put together a "look" including all the key pieces for one set price. I did this and it worked out much cheaper, plus I loved the colour combination of my dirndl.
If you do not like wearing a dress, most fashion stores now sell a version of lederhosen shorts for girls which you can wear with a cute check shirt and with or without braces.
Update: After receiving many emails and questions from readers about exactly where to purchase a traditional dirndl BEFORE you travel, I have found a few websites which are selling authentic, well-made (and, more to the point, cute) dirndls online. I actually used one of these sites to purchase my latest dirndl, which I wore to the Volksfest in Stuttgart:
Dirndl.com Trachten Outlet – Language can be changed to English at the top of the website, but all prices are charged in Euros, so make sure you check with your bank what kind of exchange rate fees you will pay when you order. They ship internationally and all shipping costs are displayed on their site.
Alpenclassics – This is a UK site, but prices can be changed to Euros or Dollars if required. They ship worldwide.
Dirndlfest.com – Unfortunately this site is only offered in German, but they do ship internationally, so if you do a simple right click > "translate page to English", then you can read the description of each item (and don't let the language thing put you off, as they have some good prices). Prices are all in Euros.
Stockerpoint – Again, this site is in German, with prices in Euros, but the same rules apply as above.
When ordering from any of these sites (or online in general), make sure to double-check your size before you pay. Sizes can sometimes run small in dirndl dresses, and postage is pretty expensive, so the last thing you want is to order an outfit and have to pay to return it. I'm speaking from experience here, as this happened to me with my first online order last year – I *really* wanted a particular style, and assumed I'd squeeze into a size smaller as it was the only one left in stock. How wrong I was! It looked like a child's dress when it arrived…
Tying the Knot
If you are going to wear the traditional dirndl, make sure to tie the knot of your apron correctly. A knot tied on your left side means that you are single, where a knot tied on the right side means you are married or unavailable. A knot tied tied in the front centre means that you are a virgin (not sure you would want to advertise that fact) and a knot tied in the centre of your back means that you are widowed. You will see guys checking out where girls' knots are tied, although how they remember which is which when they are drunk is anybody's guess.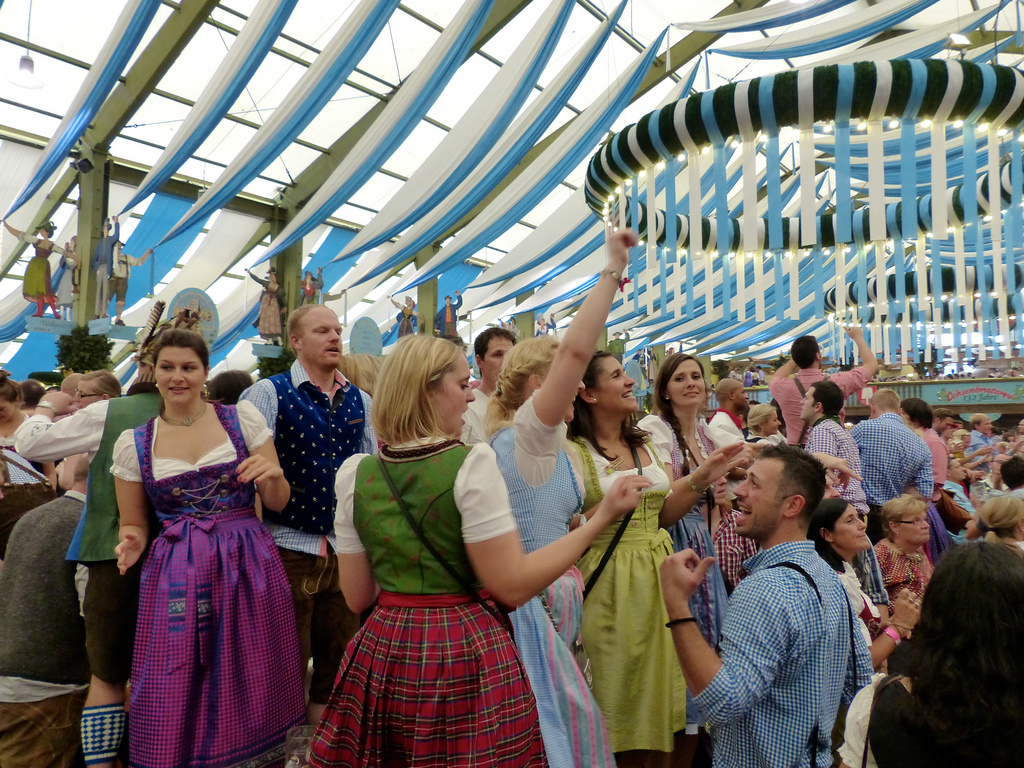 What Shoes to Wear with a Dirndl
As girls we all know how important shoes can be to perfect an outfit and Oktoberfest is no different. You will often see girls wearing high heeled shoes and boots in an attempt to "dress up" their dirndl even more.
This is a mistake, in my opinion.
For one, you will be on your feet a LONG time, either walking, standing or dancing. Unless you are comfortable wearing high heels for around 8 hours straight, I would not recommend this. You will also want something with a good grip, especially if it's raining as the wooden floors can become slippy. Even if it isn't raining, with all the beer spilled, you are unlikely to want to ruin your best pair of heels.
The most ideal shoes to wear with a dirndl are a pair of comfy and cute ballet pumps or flats. Most German girls will wear these, or a kitten heel at most, as experience has taught them that it's best. The emphasis should be on comfort but also looking and feeling good.
Besides this, I would definitely recommend wearing a pair of tan or natural tights/stockings with your dirndl. It gets cold, especially after the sun has gone down and if you are walking around outside, queuing for the beer tents or heading home via the metro, you will be glad not to have bare legs.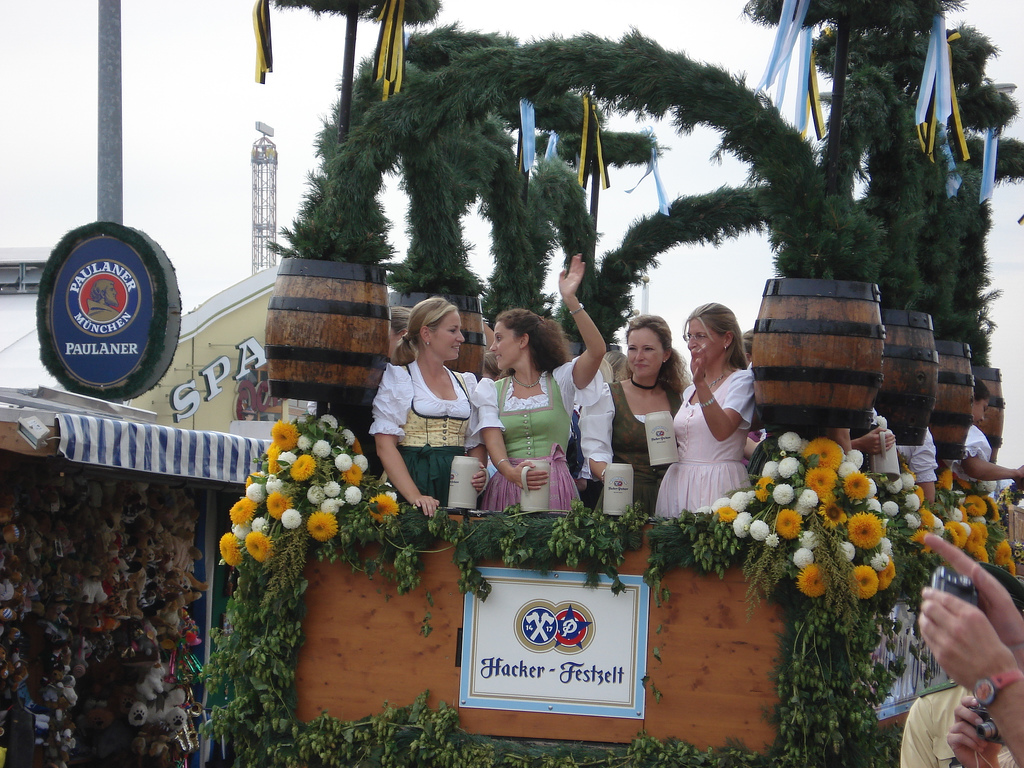 Can You Just Wear Your Normal Clothes?
Of course you can, and no-one will think any less of you if you do. Granted, most Germans will be wearing their lederhosen or dirndls, and it does tend to be mostly tourists who wear their own clothes to Oktoberfest, but it's completely acceptable. Don't feel pressured into buying or wearing something you don't like or feel comfortable in. Having said that, the same common sense rules apply to comfortable shoes and layering your clothing.
What to Do if You Don't Like beer
Honestly, you're mostly screwed. Beer is the main element of Oktoberfest and it's sold at all the tents, mainly in the litre steins. There is one wine tent which sells wine by the glass and bottle, but the atmosphere is different in this tent as the clientele is slightly older.
I mainly drunk Radlers (a beer shandy mixed with lemonade), partly because I love the flavour of them and partly to slow down how quickly I got drunk. But these are still mainly beer and have little lemonade in them, hence why they cost the same amount as a regular beer. Soft drinks and water are served in all the tents, but if you're not going to be drinking at all, the tents will quickly get tiresome as the day wears on and everyone gets more and more merry.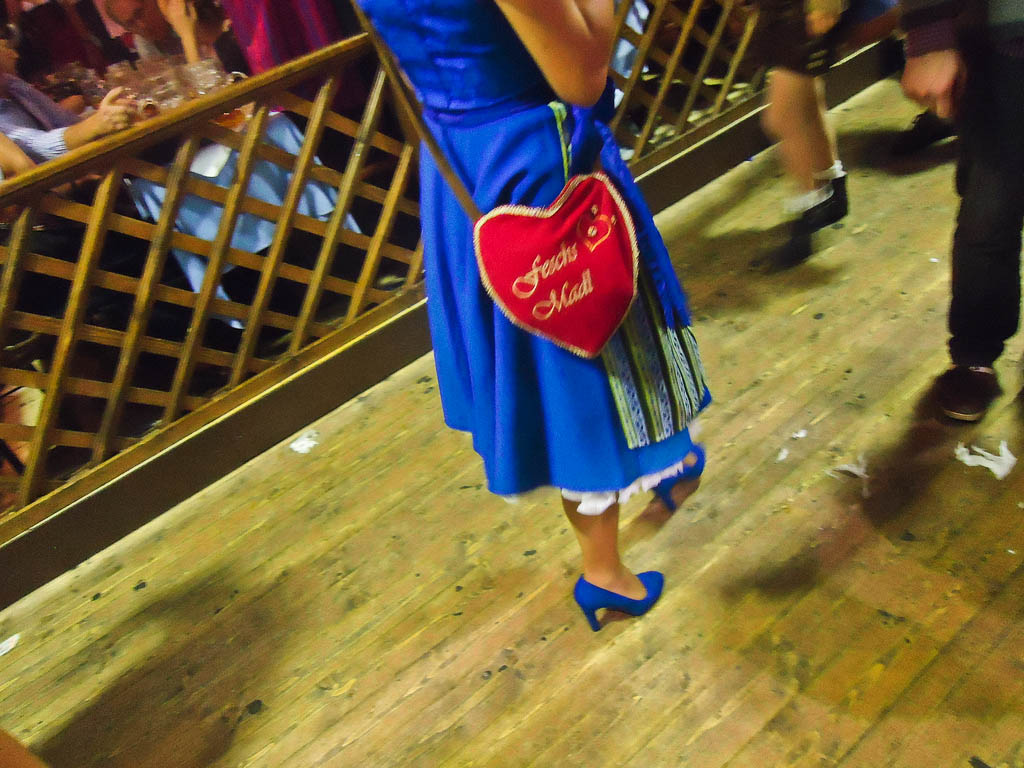 What Accessories or Purse to Take
If you can avoid it all, I would try not to take a bag with you. I had one with my purse, camera and phone in it and it was annoying trying to find somewhere to put it, especially once everyone was dancing on the benches in the evenings. I was worried that someone would steal it or I would lose it amongst the craziness, not to mention the amount of beer that got spilled on it.
Having said that, you will need a scarf or cardigan to wear while you are outside in the evenings, so a bag is a good place to store these. I would advise taking the kind of bag or purse you would take on an evening out, and always find a safe place to keep it. Small across-the-body bags are the best, as you won't need to put these down and can dance in them and take them to the bathroom with you.
It's also good if you can bring a pair of sunglasses and an umbrella, as the weather can change a lot over the course of a couple of days, as it did when I was there.
The Bathroom Situation
Talking of bathrooms, let's be realistic here for a minute. Oktoberfest is a festival, hence the toilet situation is much like that at a festival, except that most of them are indoors inside the tents. You WILL have to queue to use the bathroom, sometimes for quite a while in some of the tents, which isn't always great when you have a bladder full of beer.
Toilets in the tents are quite large and well-stocked, so you don't need to worry on that score, but there will always be an attendant in each of these bathrooms and if you are using it regularly, it's customary to leave them a small tip of 1 or 2 Euros. If it wasn't for these people, trust me, the bathroom situation would be terrible.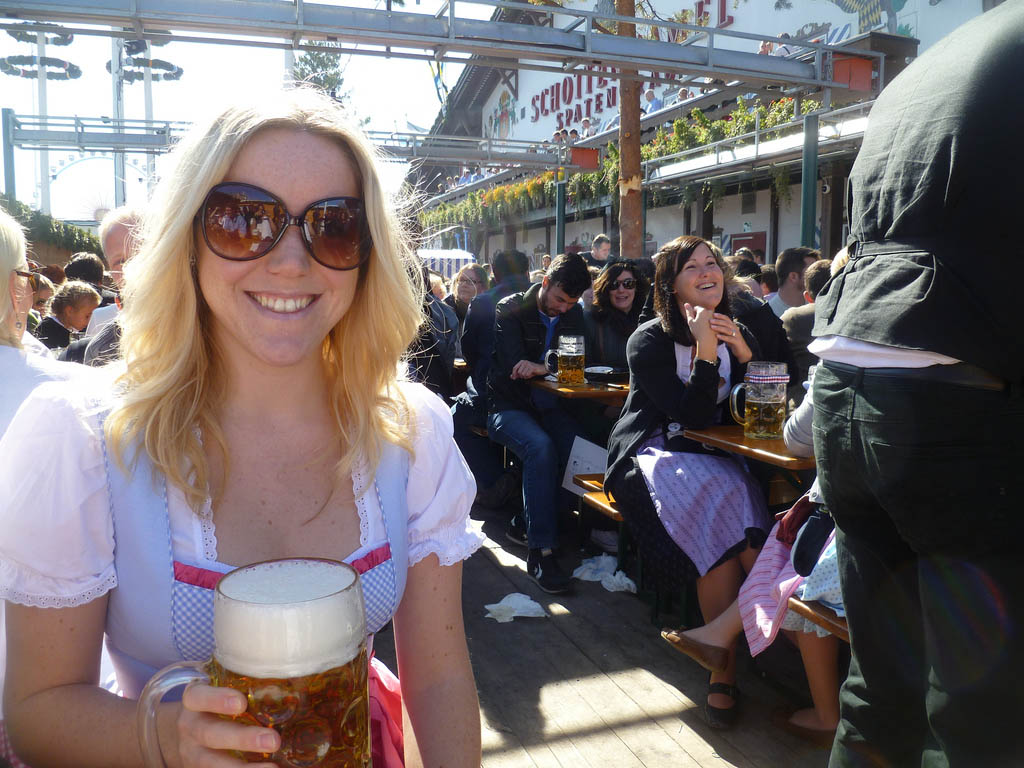 Last But Not Least: Enjoy It
By the end of the night, you may be covered in beer, your makeup may have all but disappeared and you may wonder why your purse is so much lighter than it was that morning, but you'll have had a great time. Get used to not having much of your own personal space, especially when the tents get crowded in the evenings and also get used to making friends with complete strangers and singing and dancing with them; it's all part of the fun.
But, most importantly, pace yourself. I lost count of the number of girls I saw crying on their friends' shoulders because they had had too much to drink. You need to remember that you are drinking a litre of beer every time you order a stein. A litre. Would you drink a litre of water that fast? Probably not. Just take it slowly and enjoy it. Much better to go home happy than covered in puke and dried tears. Just saying.
Photo credits: parade, beer tent
97