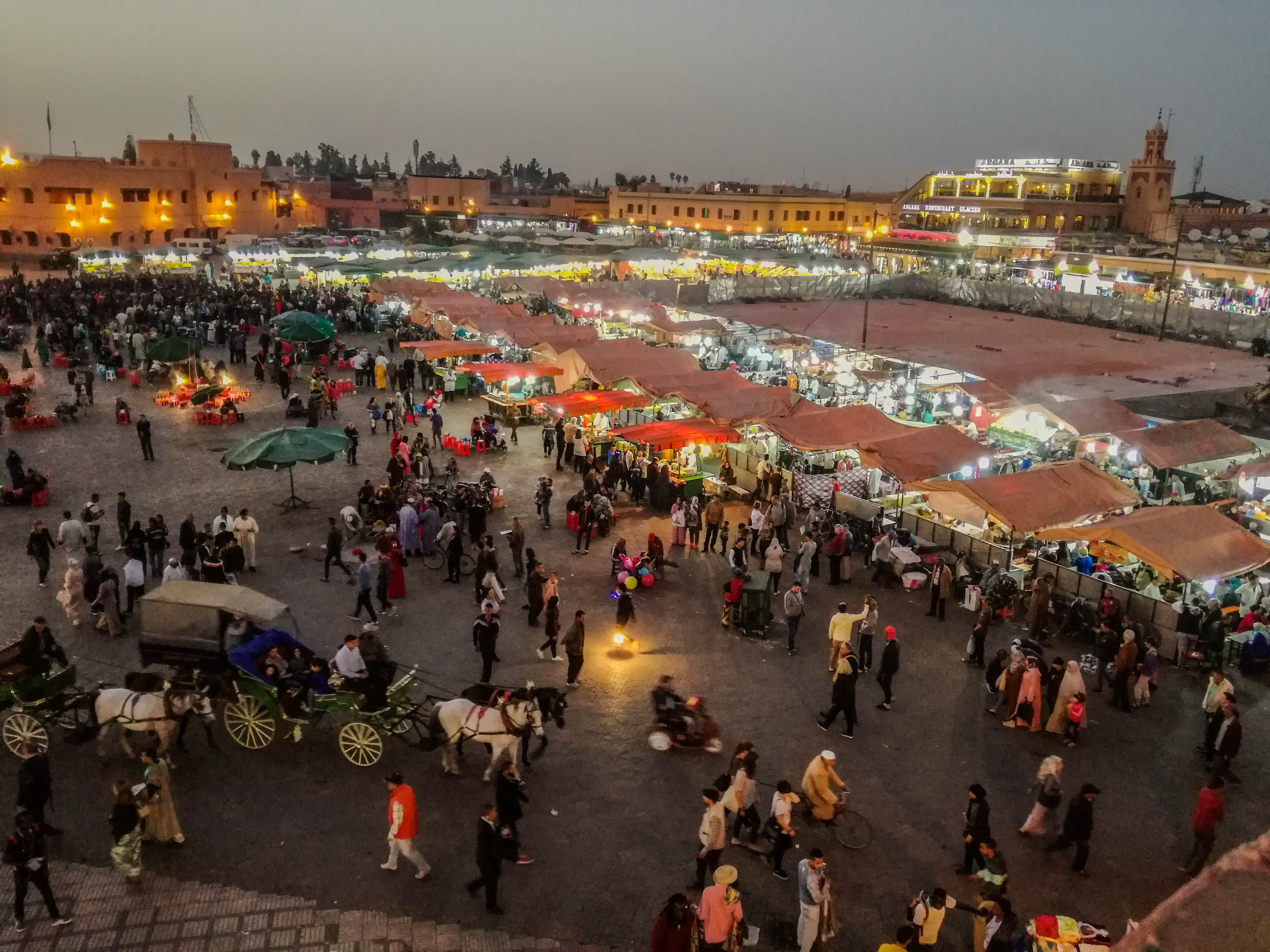 Avoid Eating at Jemaa El Fna
Most guides will tell you that if you want to enjoy a quintessential Marrakesh experience, you should absolutely eat at least one meal in the city's main square (Jemaa el Fna). We have to disagree. Although you should absolutely make a visit to the square a priority, because the atmosphere is unlike anything else in the world, the food stalls are average at best and downright claustrophobic at worst. Touts will follow and harass you to get to eat at their stall, then expect you to eat up and speedily leave once you've wolfed down a plate of sausages or unrecognizable meat.
The alternative? Enjoy the best view over the square from Le Grand Balcon du Café Glacier (you must pay for a compulsory drink to enter the balcony) while the sun sets, and soak up the ambience of the sights, sounds and smells. Then go and eat a delicious meal at a modern Moroccan restaurant or in a beautiful riad – the food, and the experience, will be much more rewarding.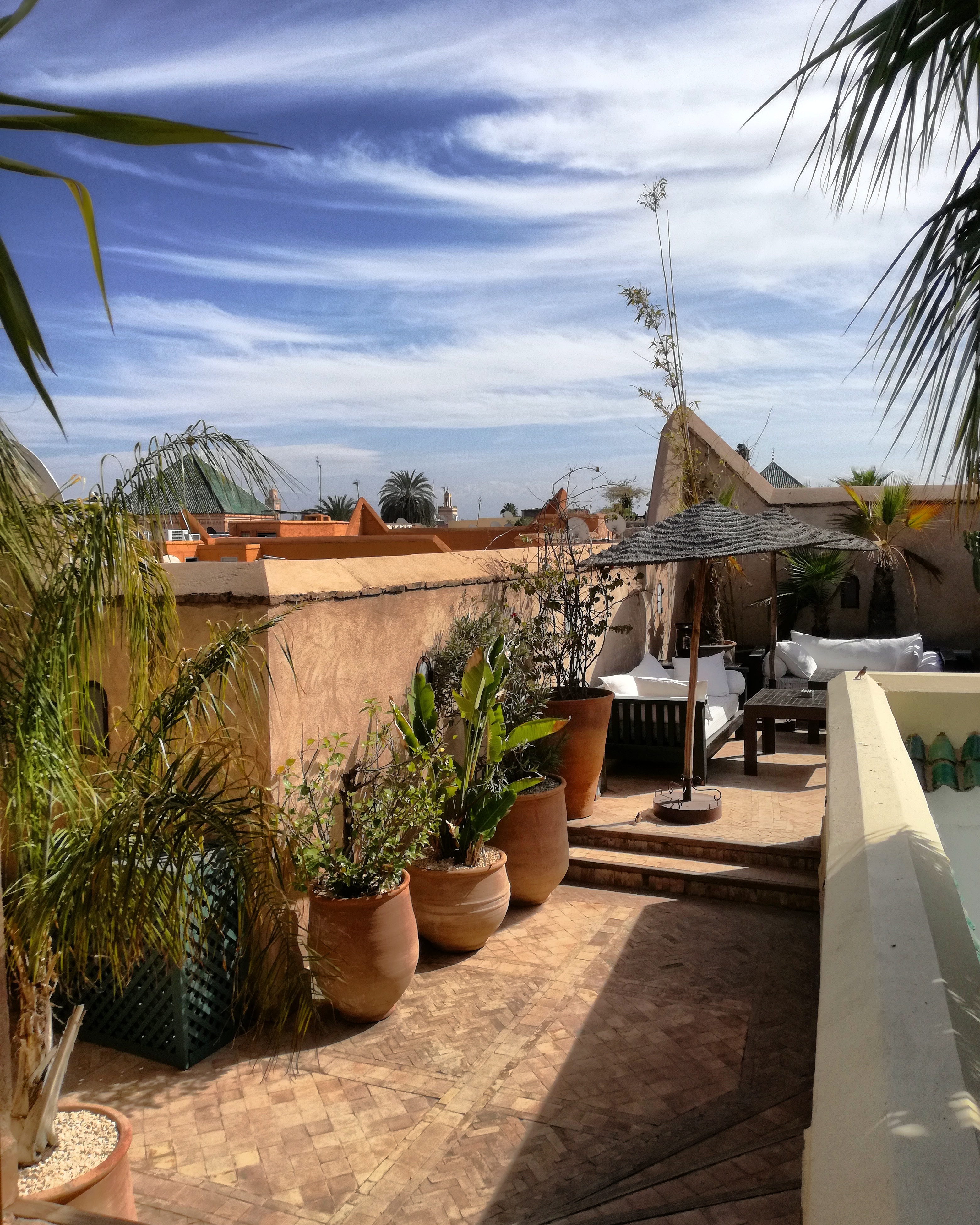 See Some of the Sights, but Don't Forget to Relax
Despite being vibrant and historic, there are actually only a handful of sights worth seeing in the city of Marrakech itself. Trekking through the streets, taking taxis, getting beaten down by the sun and perhaps even getting lost can all take a toll on you, particularly if you're only in town for a few days on a city break.
So try and prioritise only the most important sights that you want to see, and simply relax for the rest of the time. Riads are wonderfully serene places to read a book and drink a pot of mint tea, and most have plunge pools or roof terraces, as well. Remember that this is your vacation, and traversing the medina and the main square can be a little exhausting, so taking the time out to just relax and enjoy some Moroccan hospitality is as invigorating as anything else.
Don't Get Disheartened by Haggling
It's warm, the souks are like a maze that you just can't quite find your way out of, and there are stallholders cooing at you from all directions; we get it, it's wearisome. All you want to do is find yourself a nice souvenir to take home without getting ripped off. And haggling doesn't always come easy to everybody.
The typical rule of thumb for good haggling is to take the first price you are offered and slash it by at least 50%, and then barter upwards from there. The first price you are quoted is never the true sales price for anything in Marrakech – think of haggling as like a friendly game, one in which you are expected to take part until you can both agree on a fair price (what denotes a 'fair price' is a fluid concept that only you and the stallholder can agree on). But sometimes stallholders can be a little pushy, and you can feel like you're getting nowhere, or like the rest of the world is better at this haggling game than you are.
The best course of action is to get a few starter prices from a couple of different stallholders for the item you are looking for (don't engage them in proper haggling unless you actually want to buy the product from them, as this is considered bad manners). Simply ask how much, and then walk away, despite their protestations – you can always come back to them later. Once you know a rough starting price, you can ascertain exactly how much you are willing to pay for the item. If, for example, you are quoted 400 Dirhams as the starting price for a leather handbag (roughly $40USD), then you could start the bargaining process knowing that you only want to spend $30USD maximum. Knock them down to 200 Dirhams and go from there. Don't get angry and don't let the haggling process get you down. If you really don't want to buy something and feel uncomfortable, be polite yet firm and simply walk away.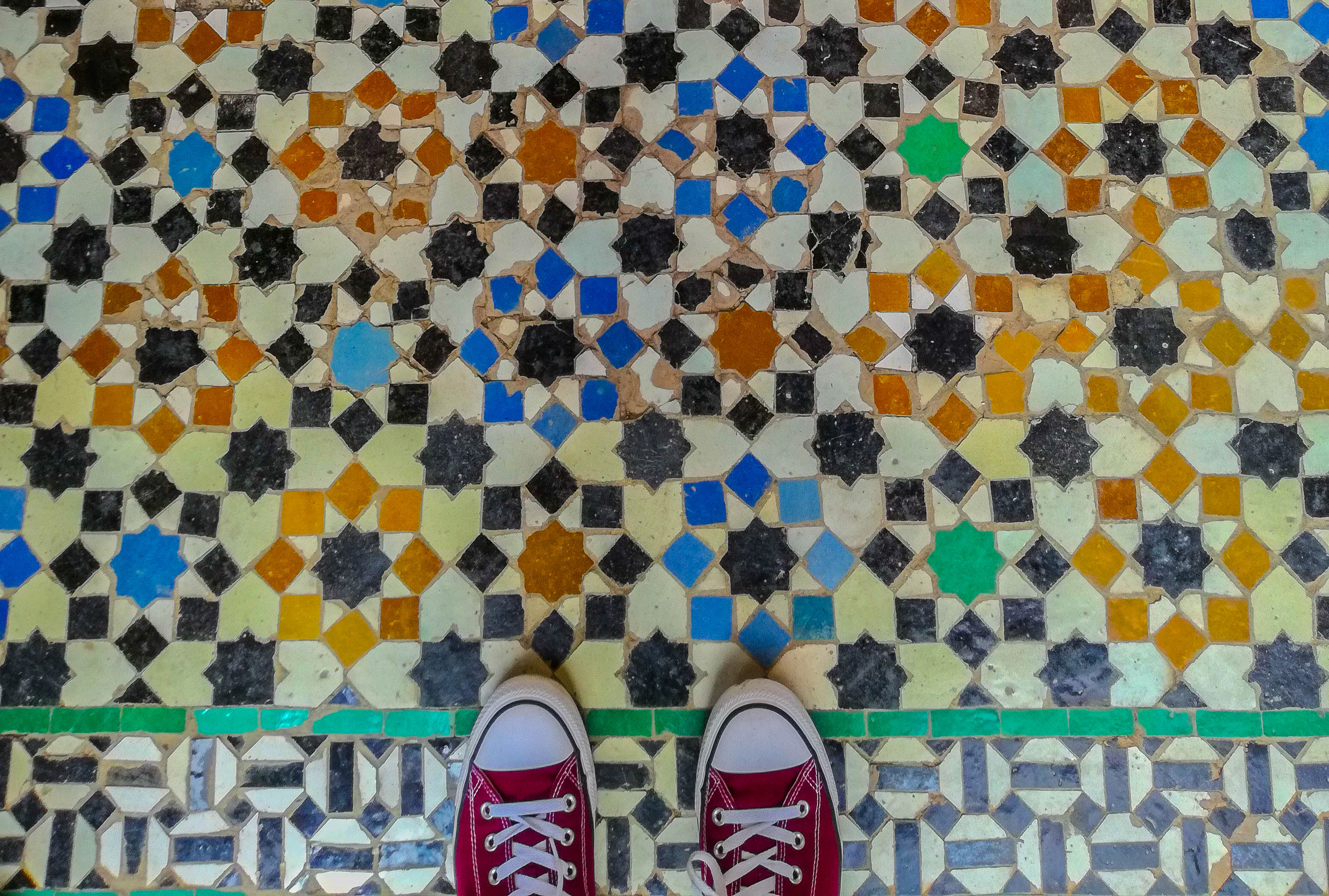 Wear Comfy Shoes
This should be a given for any city break really, but there are always a surprising number of people tottering around in heels and/or open-toed sandals in the souks. The roads are dusty, uneven and sometimes cobbled. You WILL be walking long distances (particularly if you get lost within the medina and end up circling back on yourself several times). Please, for the love of God, wear trainers or comfortable shoes.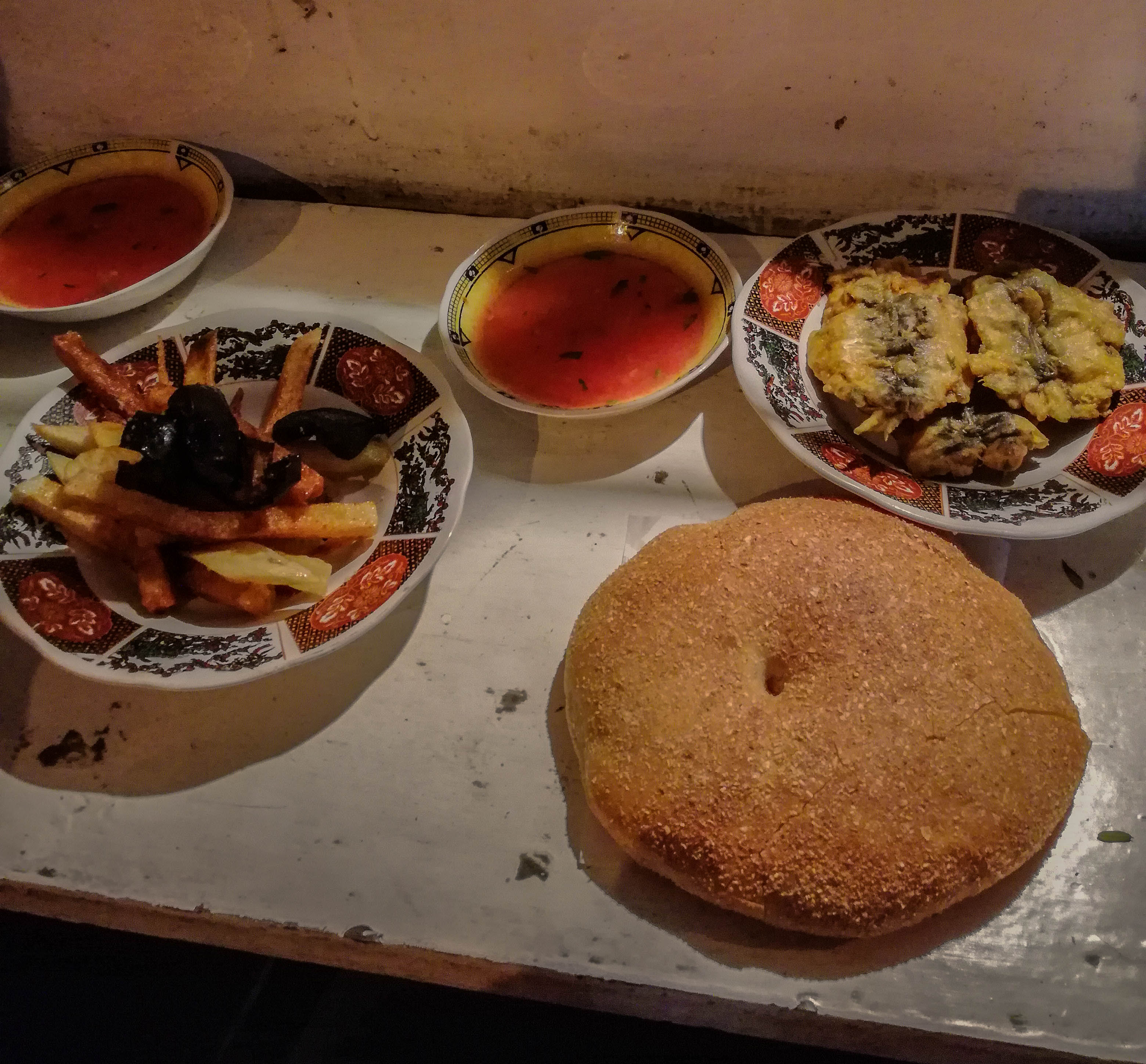 Don't Always Eat at Restaurants
Ok, so I know we just got done telling you not to eat at the square, and now we're telling you not to eat at restaurants – so where the heck SHOULD you eat? Obviously there are many mouth-watering restaurants around the city, both inside the medina and out, but menus can be very similar, particularly if you're staying in the city for longer than a couple of days (there's only so much lamb tagine that a girl can take down, am I right?). So don't be scared to eat on the street.
'Street food' stalls may seem less prevalent here than in other parts of the world, but even hole-in-the-wall local eateries sell delicious, cheap meals with a much more authentic vibe. Look out for Moroccan-style fish and chips (battered sardines with fries and perhaps some fried pieces of eggplant/aubergine) and meat 'brochettes' (skewered kebabs served with bread and tomato salsa). The Kasbah neighbourhood of the city is particularly good for these kind of casual street-side eateries.
Cover up (to an Extent)
Morocco is a Muslim country, and although Marrakech is a touristy and therefore slightly more progressive city, it should not be forgotten that women should be modestly dressed, particularly when entering religious buildings. We're not saying that you have to be covered from head-to-toe for the whole length of your stay, especially when it's hot, but please don't walk around the medina wearing a crop top and hot pants. You will attract unwanted attention and probably unflattering stares from local women (and maybe even other tourists).
The best rule of thumb is to at least cover your shoulders and knees (this is mandatory for entry to religious buildings); loose-fitting t-shirts, trousers and skirts are perfect for this, and can help with the heat, but you won't feel out of place wearing jeans, trainers and a leather jacket either if the weather is cooler.
Eat at a Riad
So you've avoided the main square, you've eaten at some delicious local restaurants and you've sampled the street food – now what? Well, you definitely shouldn't leave the city without dining at a riad, even if you're not a guest at one. Most riads (boutique-style hotels in converted courtyard houses) can offer their own in-house dining, and by eating at one, you're almost guaranteed a delicious home-cooked meal prepared by a local.
The menu may be similar to ones you've already encountered at restaurants around the city, but trust us when we say that the food will be a notch above, and will give you a greater insight into what local Marrakech people eat at home. You may not be able to choose your main dish, but instead may have it chosen for you by the chef, so go along with an open mind about the kind of dish you're likely to eat. Starters will often be a selection of local dips and salads; mains could be tagine with chicken or lamb, beef meatballs or a large meaty couscous dish; dessert could be anything from homemade cake to mint tea and sweet pastries. Regardless, it will be delicious, and the ambience will be intimate.
Don't Turn up at the Airport Too Early
This one applies mostly to those flying with low-cost carriers to the UK. If you are flying long-haul to other parts of the world, and have multiple bags to check in, then this rule may not apply to you.
Many airlines suggest that you should get to Marrakech Menara Airport at least three hours prior to your flight home due to security procedures and local laws. This isn't true. The owner of our riad warned us that if we turned up at the airport at the time stated, we would be hanging around for far too long with nothing to do, and we have to say that he was correct (we were flying with EasyJet, FYI).
If you aren't checking any bags, don't even bother turning up any earlier than two hours before your flight. Marrakech now has a large, shiny new airport and security actually runs a lot quicker and smoother than most UK and US airports we've been in, so unless you plan on doing a lot of duty-free shopping before your flight, you will just end up hanging around the gate feeling bored.
1